Best Employee Birthday Gift Ideas
& Corporate Birthday Cards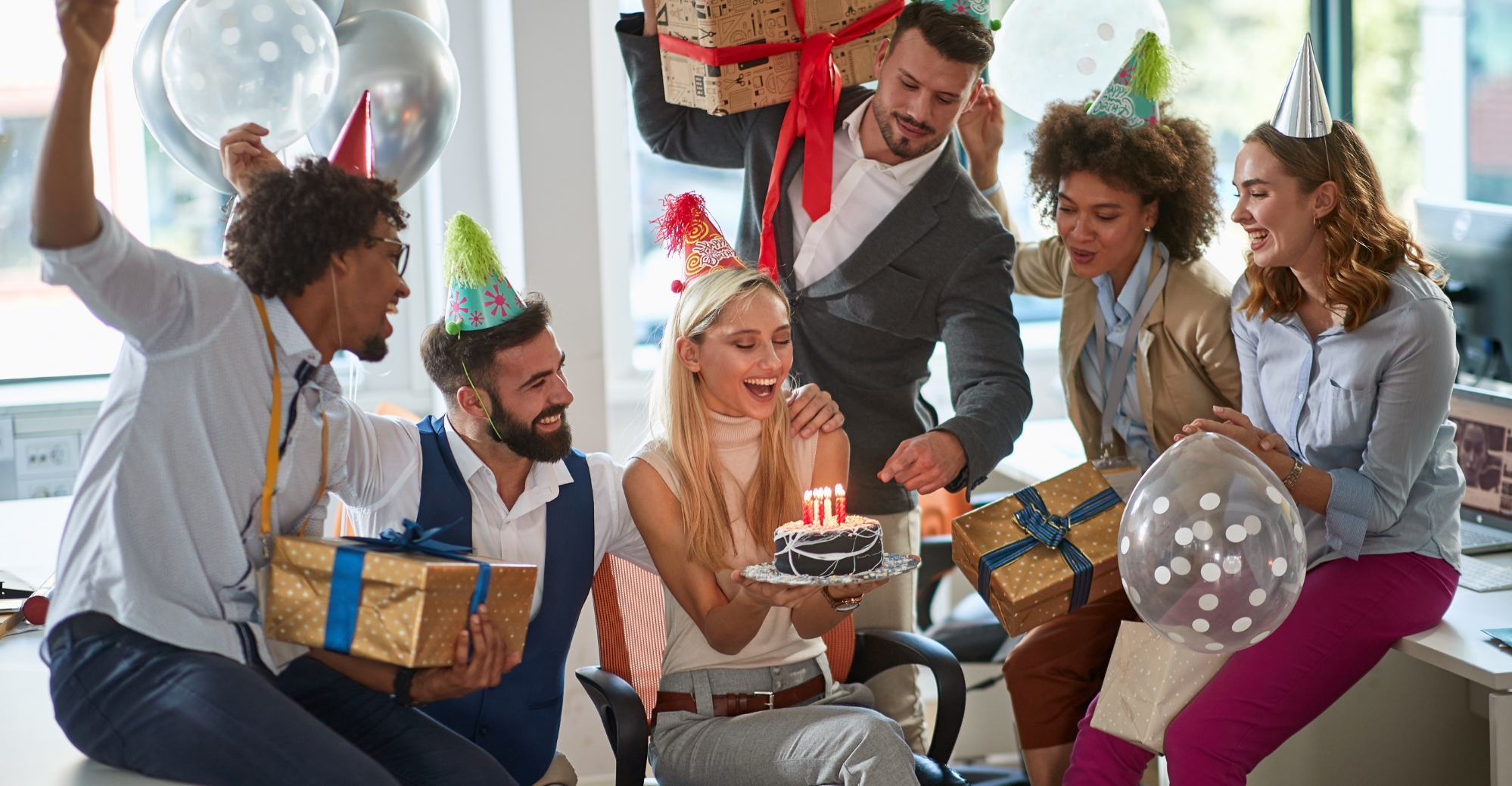 published: March 29, 2022
Of all the holidays in the year, a birthday is one of the most special. After all, it's one of the only days that a person gets true, individualized attention that makes them feel special and loved.
As an HR manager, one of your jobs is to help employees celebrate their special day. While an email is a simple way to share happy birthday wishes for employees, a gift - be it large or small - can be even more impactful. Whether it's an old-fashioned greeting card or a gift basket brimming with treats, a special present can help transform a birthday from good to great and demonstrate your employee appreciation.
Depending on the budget or culture of your organization, you may choose to throw an office birthday party with balloons and decorations, and invite the whole staff to join in the celebration (if you do, we've got all the party accessories you could ever need).
Alternately, you may choose to keep it small and leave a desk plant or a birthday card on the employee's desk. If you've got remote employees who are celebrating a birthday, there are plenty of gifts that are easy to send in the mail. On this page, we'll discuss a few of the top office birthday ideas for employees in your organization.
Let's dive in.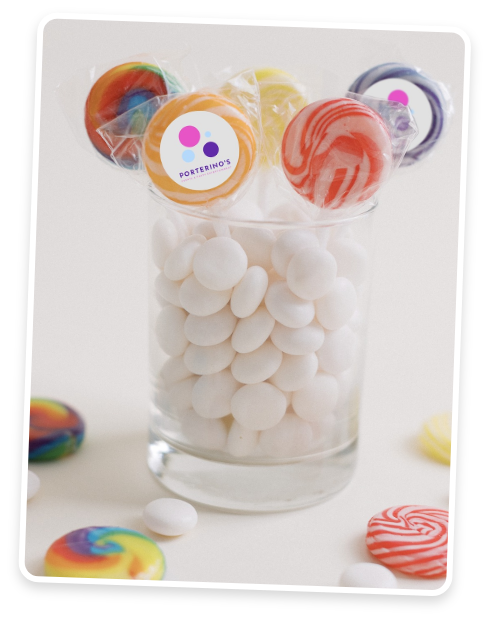 Corporate Birthday Cards
A corporate birthday card is one of the easiest ways to celebrate an employee's birthday. In addition to being inexpensive and easy to mail, corporate birthday cards are a great way to express your appreciation for an employee's hard work. Plus, they're an excellent option for remote employees.
If it's been a while since you sent a corporate birthday card, you'd probably be surprised by how far they've come. InstaCake Birthday Cards, for example, come pre-printed with a standard birthday sentiment and can be customized with your logo. These ingenious cards include all the ingredients needed to make a mini celebration cake in the microwave in minutes!
Other cards give you the option to choose from a variety of stock sentiments, which is a great way to customize your card to the voice of your company. Invest in a box of bulk corporate birthday cards so you'll have them on hand as each team member's special day rolls around.
Here are a few of our favorite employee birthday recognition ideas:
7 Festive Employee Birthday Gift Ideas
Your employees are unique, hardworking, and critical to your organization. When someone has a birthday, you want to give a gift that communicates exactly how much you appreciate them.
If you're looking for something special to send alongside that birthday card, here are a few of our favorite employee birthday gift ideas. Customize your picks with your company logo and you'll always know just what to do for employee birthdays:
1. Light up gifts
Brighten their birthday with a festive gift that lights up and makes every day a bit more fun. Make it easy for them to charge their phone, tablet, and other tech with a Metallic Multi-Port with Light Up Logo Cable.
For a gift they'll use in-office, give a
Light Up Rainbow Stylus Bright Pen
or a
Light Up Cinema Board
to make daily note-taking more fun. Add your company logo and customize your imprint colors for a gift that's both on-brand and appreciated by your employees.
These gifts are simple and easy to give, but they're sure to make a splash with your team.
2. A desk plant or seed packet
Having green plants in the office improves indoor air quality, decreases stress, and improves productivity. Bring some life into the office or home workspace with a desk plant or seed packet. These eco-friendly gifts are sure to be a hit with all your employees.
Check out our plants page for some great gifting options, or give a bespoke gift with our Expression Planter, Flower Seed Matchbook, or Wooden Planter Box, which is the perfect size for a desk. Made of high-quality pine wood, the planter box comes with a seed packet and instruction manual and can easily be customized with your logo and colors.
3. A sweet treat
Everyone loves a sweet little treat to brighten their birthday. Fortunately, we have some great options to choose from!
Gift our delicious Spooner Mug Cake Set, which comes in a variety of spoon and mug colors, and is an excellent way to give a single-serve treat. Other favorites include our Fairytale Brownies® Custom Label and Swirl Lollipop with Round Label, both of which are a fun gift to give and receive.
If you're a health-conscious company, don't worry - we offer plenty of healthy options, including granola bars and trail mix.
5. Birthday theme kitchen accessories
Help the birthday celebration stretch as long as possible with a birthday-theme kitchen accessory gift. Simple things like a Slice and Serve Desert Server or Ice Cream Scoop are a great way to help your employee continue celebrating their birthday with family or friends. A Color-Changing Bowl is another great option that will be fun for the employee and their whole family.
7. Desk accessory set
Help your employees stay organized and productive with a Desktop Organizer Cube or a Multi-Use Desk Set, which includes sticky notes, sticky flags, a ruler, and a notebook.
Another favorite is our Office-to-Go Kit, which is a convenient, secure, transparent case that allows your employees to take their favorite office supplies on-the-go with them.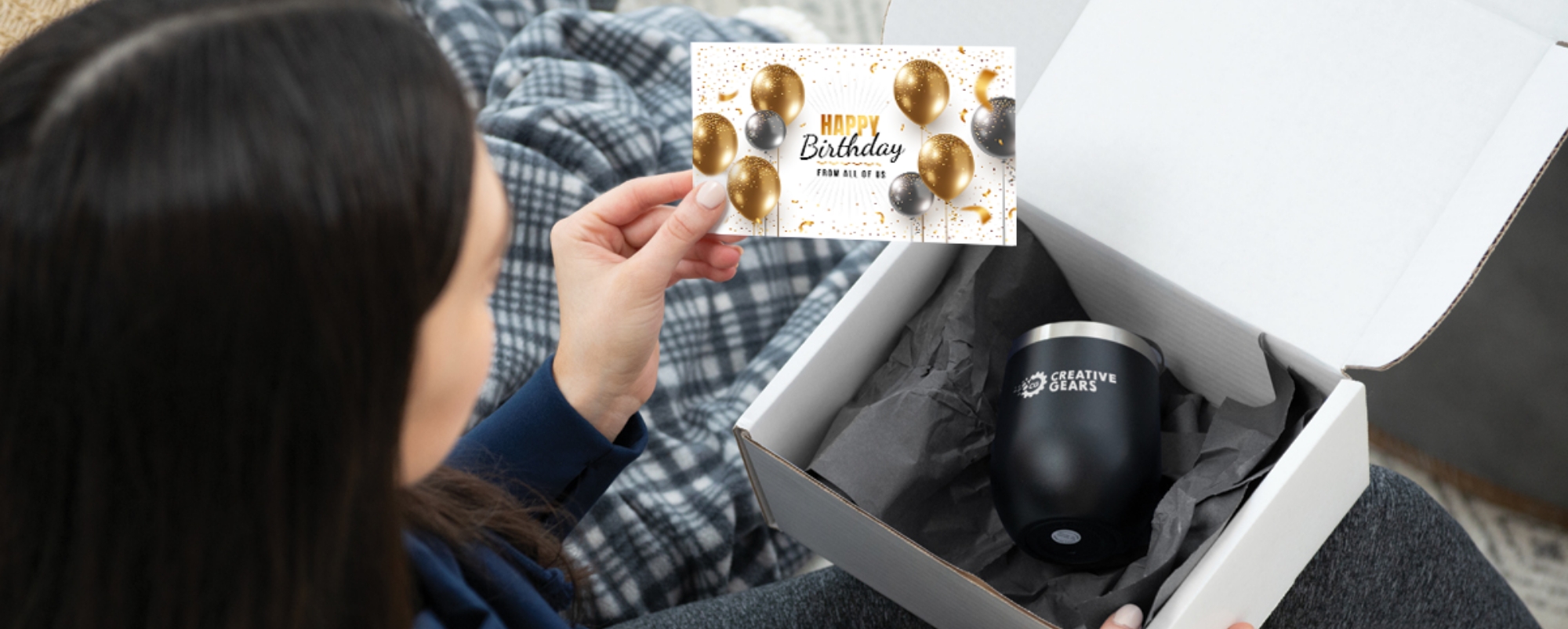 Birthday Corporate Gifts: Celebrate Your Employees' Birthdays in Style
A birthday is a big deal, and it's the perfect opportunity to help your employees feel individualized, special, and celebrated. Choose one of our top gifts (including remote birthday gift ideas) above or browse our selection of employee birthday gift ideas to find the one that's perfect for you.
Happy shopping!