How to Celebrate Your Team's Diversity During the Holiday Season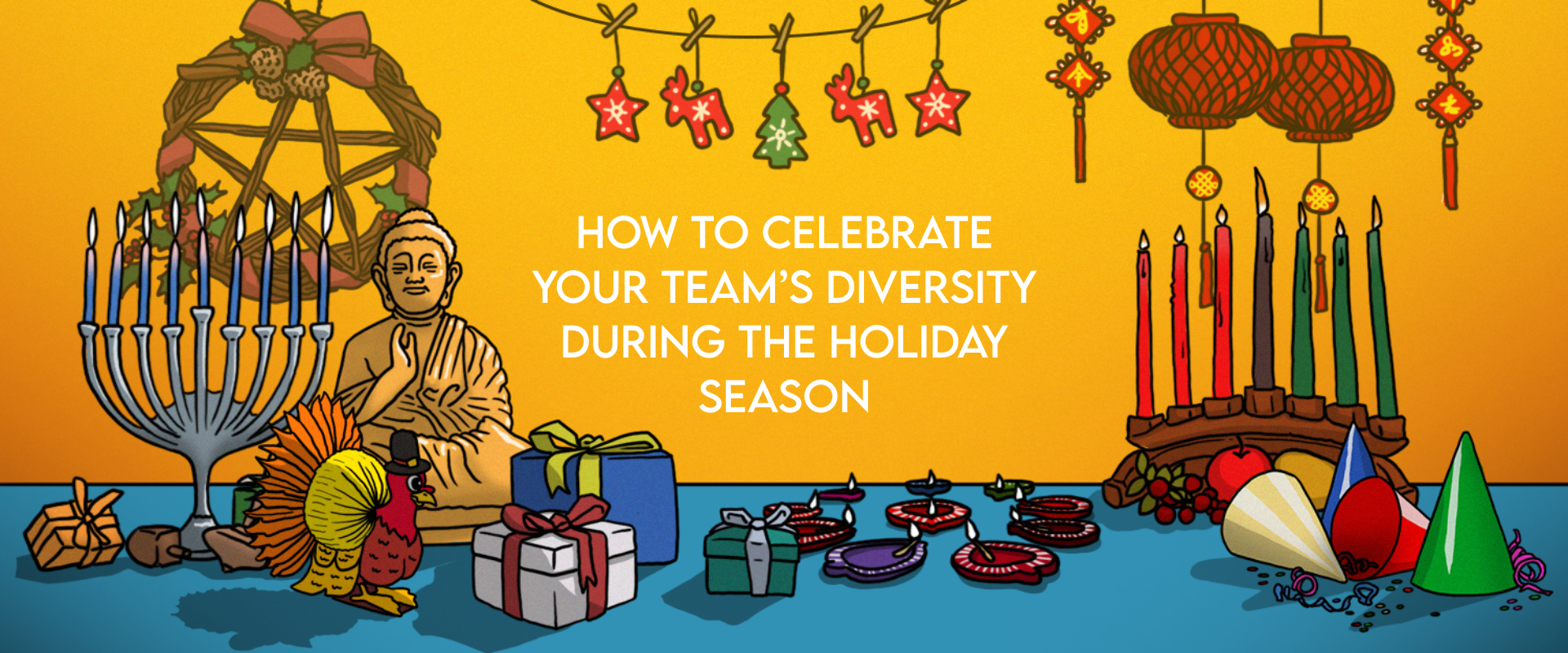 published: October 22, 2021
Santa hats and festive Christmas trees are common staples in many offices during the holiday season — but an essential part of diversity, equity, inclusion, and justice (DEIJ) in the workplace is respecting that not everyone on your team honors the holidays in the same way. Between October and December, several holidays are celebrated throughout the world by different cultures, but Christmas and Thanksgiving take precedence in many companies. HR and managers can help create more diversity and inclusion in the workplace by recognizing and embracing all types of celebrations.
In a survey of 35,000 Americans by the Pew Research Center:

70% say they're Christian
Over 45% are Protestant
20% are Catholic
less than 2% are Mormon
Almost 6% are of non-Christian faiths:
2% are Jewish
Muslim, Hindu, and Buddhist are all around 1%, respectively
In addition to religious traditions, holidays are also driven by cultural history and nationality. Today's American companies employ immigrants from all over the world as well as people with family ties and heritages that span the globe. Multinational firms also have teams with members representing every time zone, bringing a wealth of traditions to the organization.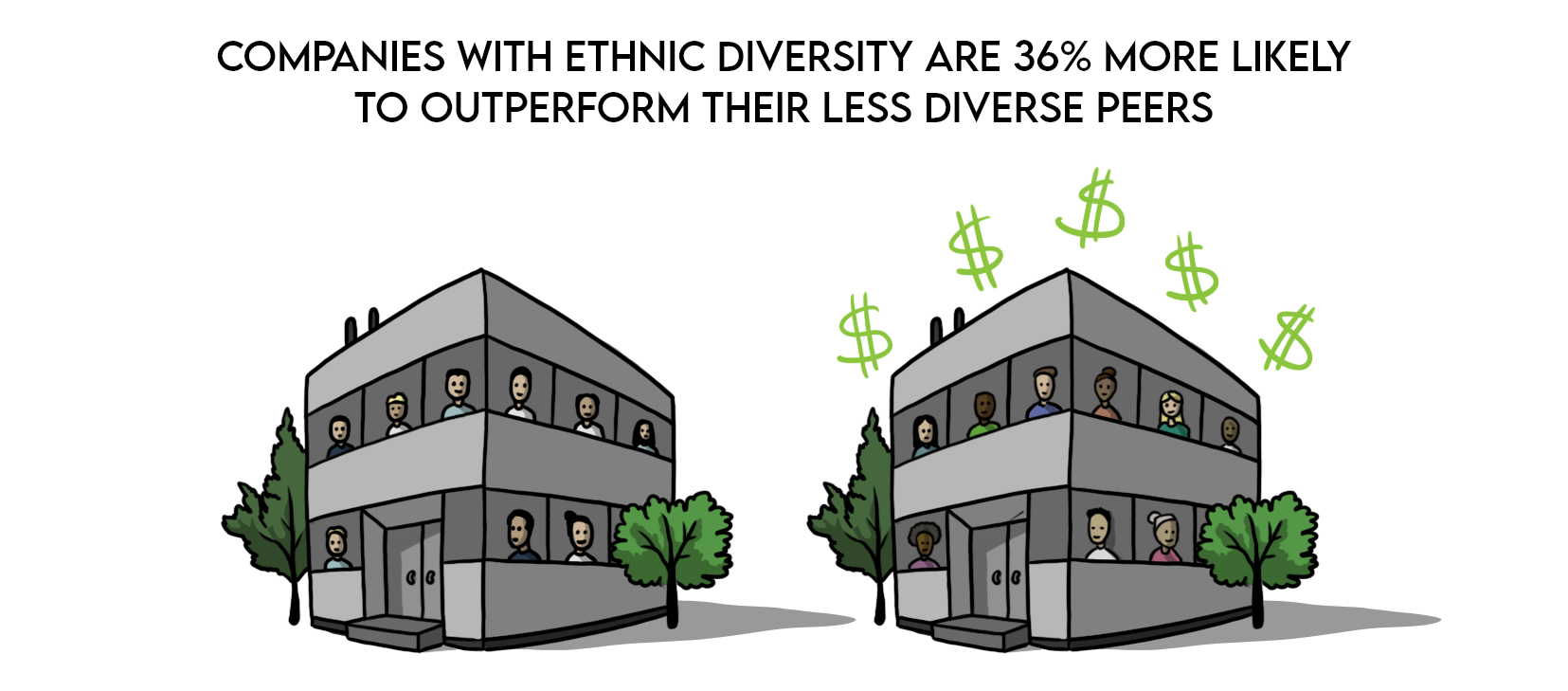 Why is diversity important in the workplace?
Diversity, equity, inclusion, and justice (DEIJ) in the workplace demonstrates your company's obligation to treat all employees fairly and respectfully and offer everyone equal opportunities. The benefits of diversity in the workplace include increased morale, higher productivity, and a wider range of talent among your employees.
Inclusion in the workplace benefits your company's bottom line, too. A study by McKinsey & Company found companies with ethnic diversity are 36% more likely to outperform their less diverse peers.
So, how can you ensure you're cultivating a diverse and inclusive workplace? An easy place to start is with your company's holiday calendar. Highlight your commitment to inclusion in the workplace by recognizing some or all of these holidays throughout the year.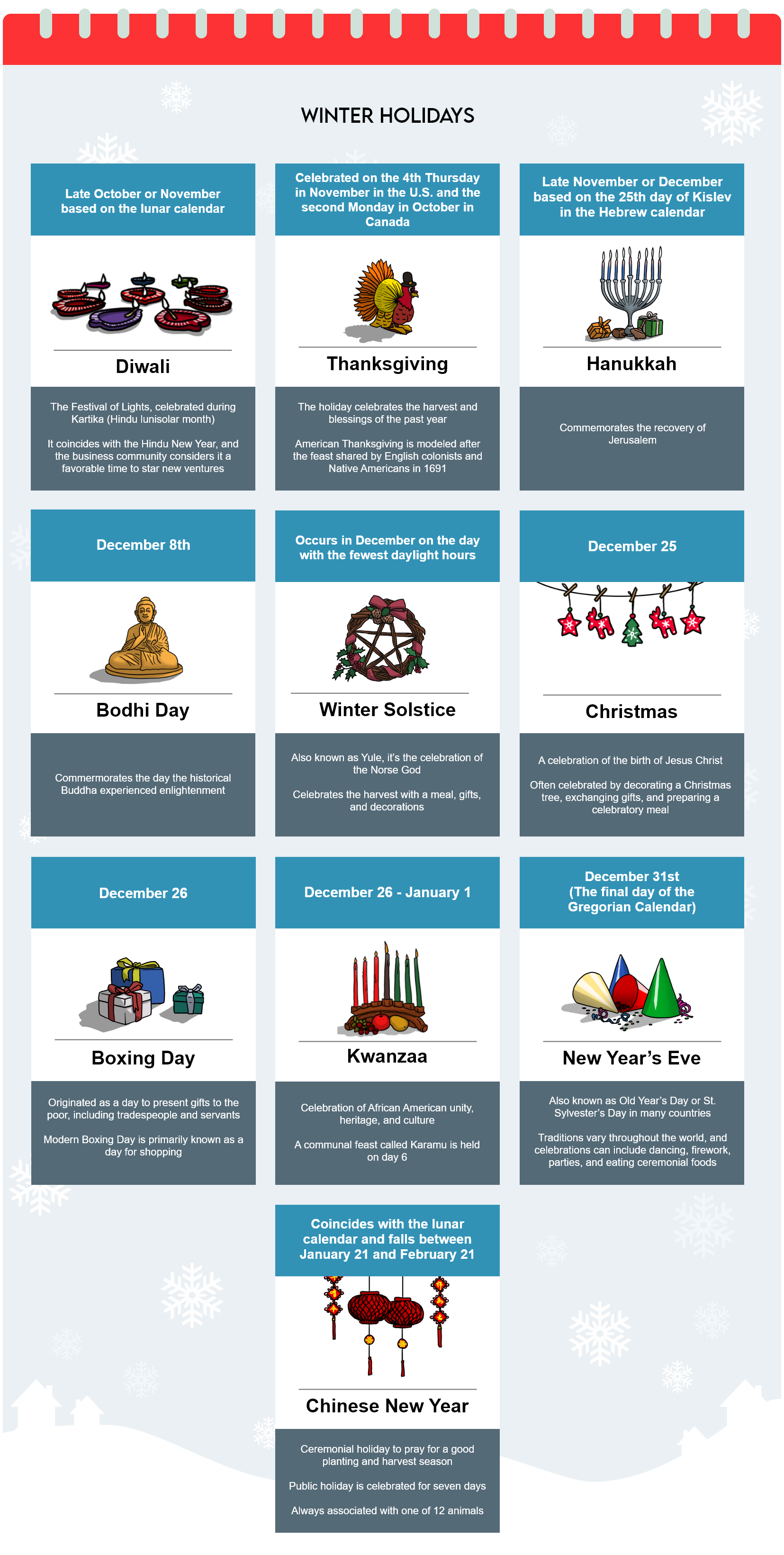 Consulting with members of your staff who celebrate these holidays will help your employees feel valued when they're included in the decision-making process. Plus, a multicultural holiday team can help determine which holidays are most celebrated within your particular workforce and guide you on each holiday, so your office can choose an appropriate way to recognize and celebrate each.
Recognize important cultural events and holidays for all religions throughout the year with a multicultural holiday calendar. Create a custom calendar with each holiday to hand out to new and longtime employees. Choose ways to celebrate each holiday, such as:

Holding an office-wide meditation event on Bohdi Day and gifting everyone a custom yoga mat
Creating a special playlist of traditional music for each holiday and giving each employee branded Bluetooth speakers
Handing out gold foil-covered coins on Hannukah
Decorating an office Christmas tree and exchanging small gifts to celebrate Christmas
Creating colorful lanterns and setting off firecrackers (to scare off bad luck) for Chinese New Year

For all holidays, consider whether those who are celebrating need or want time off. Plus, a thoughtful staff email commemorating the day will undoubtedly be appreciated.

Inclusion in the workplace includes making office holiday celebrations optional. Some religious beliefs don't typically "celebrate" a holiday, while some choose to skip festivities for personal reasons. No matter the reason for not wanting to partake in any office holiday parties, don't force your employees to participate.
If you have diverse teams in the workplace, they'll have different food preferences. When you hold an office holiday celebration, include food options that meet specific dietary needs and restrictions, such as:

Kosher: any food or beverage allowed by Jewish dietary law. According to these laws, kosher food must be prepared, processed, and inspected and falls into three categories: meat, dairy, and "pareve."
Halal: the dietary standard as prescribed in the Muslim scripture, the Qu'ran. Halal foods are any foods that aren't prohibited by the Qu'ran and must be made, produced, manufactured, and stored using utensils and equipment cleaned according to Islamic law.
Vegetarian: foods that do not include any animal meat or tissue products, such as gelatin or animal-derived rennin.

One of the benefits of cultural diversity is being able to sample dishes from different backgrounds and cultures. Practice holiday inclusion with a potluck gathering, and have each employee bring in a traditional dish to share.

Rather than giving everyone the same holiday ornament or Christmas mug emblazoned with your company logo, consider options like this custom Holiday Word Cloud Bottle that helps increase awareness of various religions and cultures. As you craft your year-end letter to employees, skip the standard "Merry Christmas" and aim to deliver a holiday message celebrating diversity and inclusion instead. For example, "Happy Holidays" and "Season's Greetings" are considered inclusive and can be used when addressing a large group of people. Wishing your staff a healthy and safe New Year is another way to remain inclusive while conveying your warm wishes.
Choose inclusive decorations and holiday diversity activities for any gathering or celebration. For example, select general party accessories and highlight the importance of giving back or being with friends and family rather than a specific holiday.
Celebrating cultural diversity in the workplace is just as important during the holidays as it is the rest of the year. This year, choose to celebrate your team's varied backgrounds with these inclusive holiday ideas.