Cinco de Mayo Ideas for Businesses:
How to Fiesta with Employees & Customers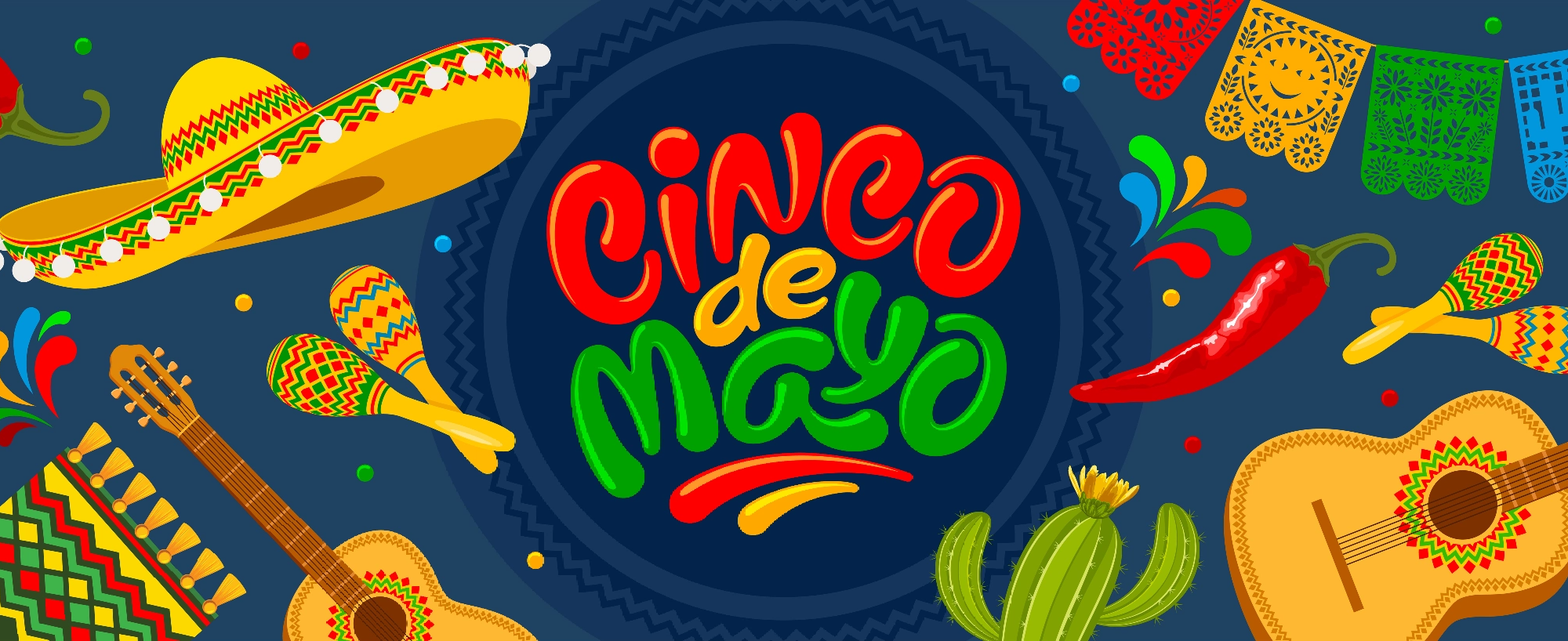 published: January 13, 2023
Fiesta! The Hottest Cinco de Mayo Ideas for Employees & Customers
A popular holiday throughout the Americas, Cinco de Mayo marks the anniversary of Mexico's victory over the Second French Empire at the Battle of Puebla in 1862. Today, it's commemorated on the 5th of May with parades, mariachi music, vibrant costumes, and fireworks. With a ton of people excited to get in on the festivities, Cinco de Mayo is a great holiday to celebrate at schools, work, bars, restaurants and more.
From fun ideas for Cinco de Mayo office party to celebrate with employees to Cinco de Mayo restaurant ideas to welcome customers to other Cinco de Mayo giveaway ideas for any other business, here are some of the top promotions to make the 5th of May a raging success. To find the best ideas for your fiesta, read on or skip to the section that interests you:
Cinco de Mayo Office Party Ideas
What better way to drive employee engagement than by coming up with fun and unique Cinco de Mayo ideas for work? After all, celebrations make everyone feel included and are a great way to show employee appreciation. So, if you're wondering how to celebrate Cinco de Mayo at work, check out these ideas to get the party started.
Cinco de Mayo Party Food
Unless you're planning a happy hour after work, you probably won't be serving cocktails. Luckily, there are plenty of food dishes that make great Cinco de Mayo work party ideas. Mexican favorites that are always a hit include street tacos, enchiladas, guacamole, chips and salsa, beans and rice, churros, flan, burritos, chimichangas and much more. You can even partner with a local food truck or restaurant to build rapport in your community. Be sure to serve up some tasty Mexican beverages such as agua fresca and horchata.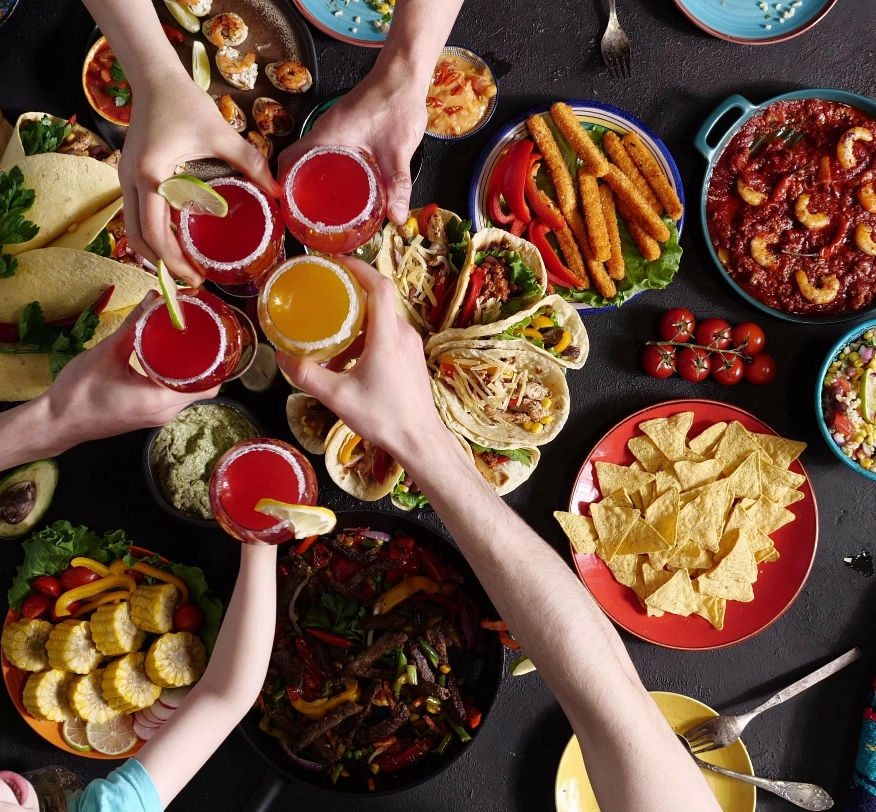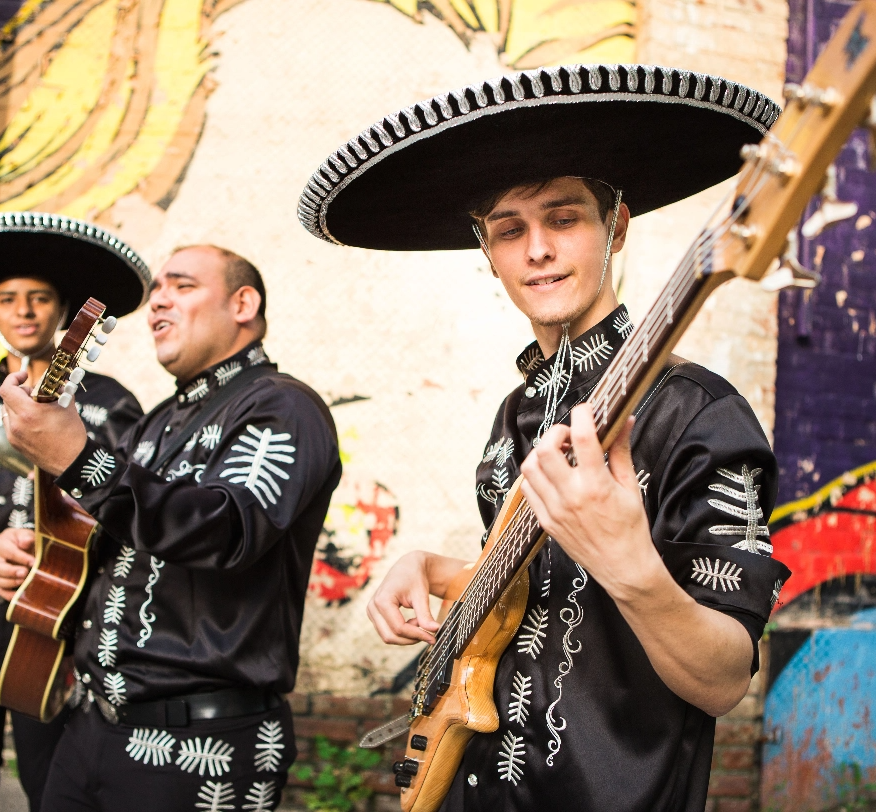 Music for Cinco de Mayo
If you're not sure how to celebrate Cinco de Mayo at work, start by throwing on some tunes from a mariachi playlist. Traditional mariachi songs like "Volver Volver," "La Bamba" and "La Bikina" will have the entire office ready to do the zapateado dance. Of course, there are also a ton of modern Mexican groups who play various genres to dive into around the office as well. With Cinco de Mayo work party ideas like this, you can encourage diversity and inclusion while also having fun.
Cinco de Mayo Office Decorations
With red, white and green being the colors of the Mexican flag, you can pick up party accessories in these colors like napkins, plates, balloons and cups. Make the event more festive with streamers, fans, tablecloths and tissue paper festoons in the bright colors of fiesta like fuchsia, purple, highlighter yellow, bright spring green, orange and red. Complete the decorations with maracas, cactuses, chili peppers, limes, sombreros and piñatas.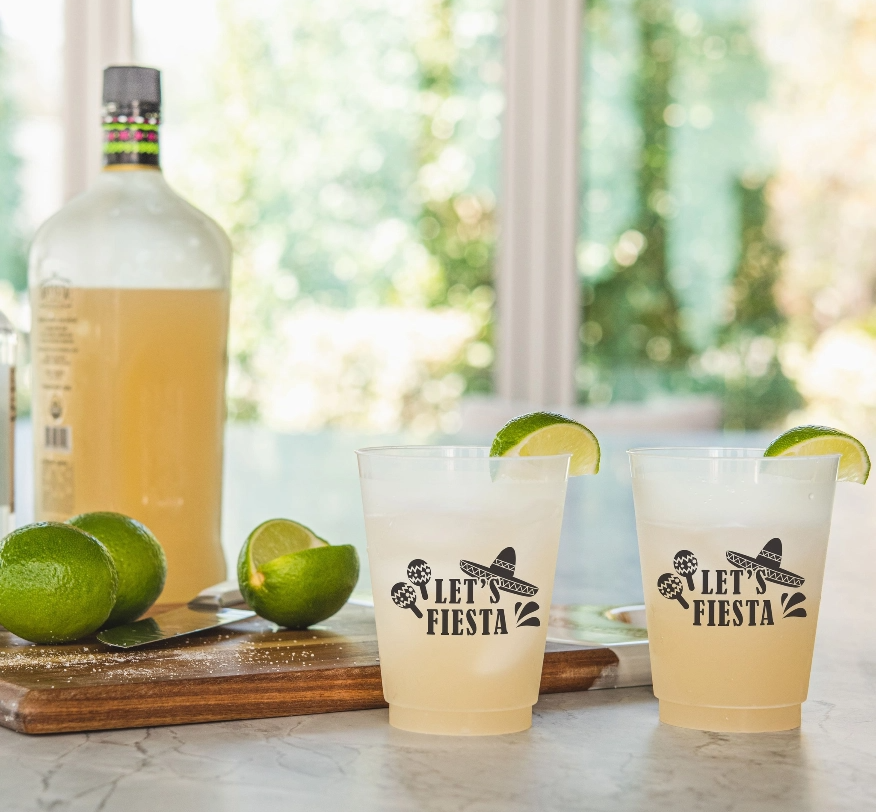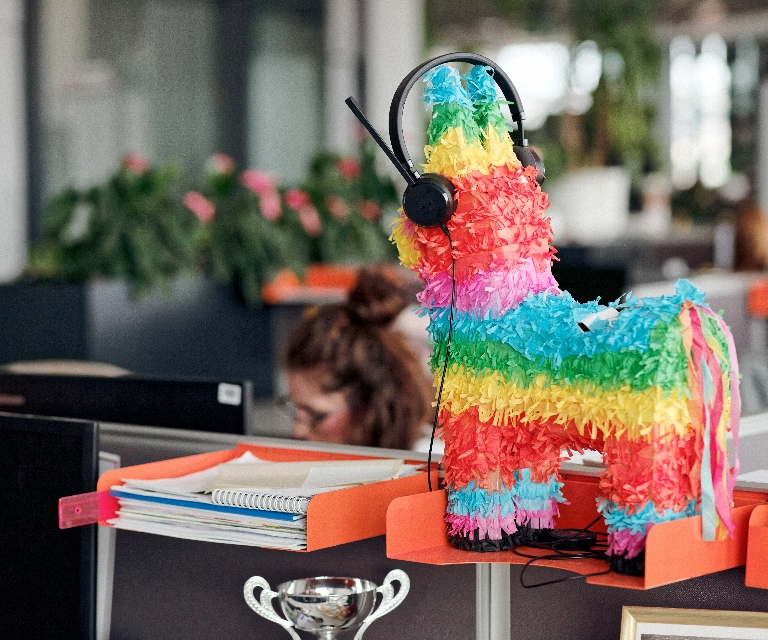 Cinco de Mayo Games for the Office
From popping a piñata to doing the limbo, Cinco de Mayo games for the office are excellent team-building exercises that also boost employee morale, especially when you reward participants with cool Cinco de Mayo giveaways. Here are a few of the best game ideas for Cinco de Mayo office party that employees will be glad to participate in:
Piñata – Get ready to bring out the inner kid by popping a piñata, a tradition where participants swing a bat while blindfolded at a hanging stuffed animal figure filled with sweets and other prizes. The person who pops the piñata gets to collect all the goodies from the inside.
Cinco de Mayo Trivia – Trivia is one of the best Cinco de Mayo ideas for work because everyone can participate, and it makes learning facts about the holiday much more fun. Ask questions about how it's celebrated, traditions and what the day's about. Don't forget to pick up Cinco de Mayo gift bags for the winners.
What's your taco name? – Ready to get the laughs rolling in? Then play "What's your taco name?" where you create a list of every letter of the alphabet with words beside them like "hot" and "saucy." Then, make a list under that with months of the year with types of tacos beside them like "fiesta mix" and "taco-loco." Participants choose the first letter of their name and their birth month to find out their taco name!
Limbo – See how flexible your staff is with a game of limbo where you continuously lower a bar as participants try to pass forward underneath it without touching the bar. Reward the most flexible members of your staff with inspiring Cinco de Mayo party gifts.
Pass the Sombrero – Similar to "hot potato," players sit in a circle and pass around a sombrero while music plays. Each time the music stops, the player holding the sombrero is eliminated. The last person holding the sombrero is the winner!
Pin the Sombrero on the Burro – "Burro" is the Spanish word for "donkey," which makes the game similar to "Pin the Tail on the Donkey." The only difference is players will attempt to attach a cut-out picture of a sombrero to the donkey's head instead of a tail while blindfolded.
Cinco de Mayo Party Favors
If you're looking for Cinco de Mayo party favor ideas to top off the experience, choose items that are useful to your office staff like a Lime Stress Ball that helps relieve tension after a stressful day at work. Kitchen accessories such as an All In One Avocado Tool also go with the theme of the day and will be very much appreciated by employees. To reward your staff and help them remember the celebration, check out these Cinco de Mayo party gifts: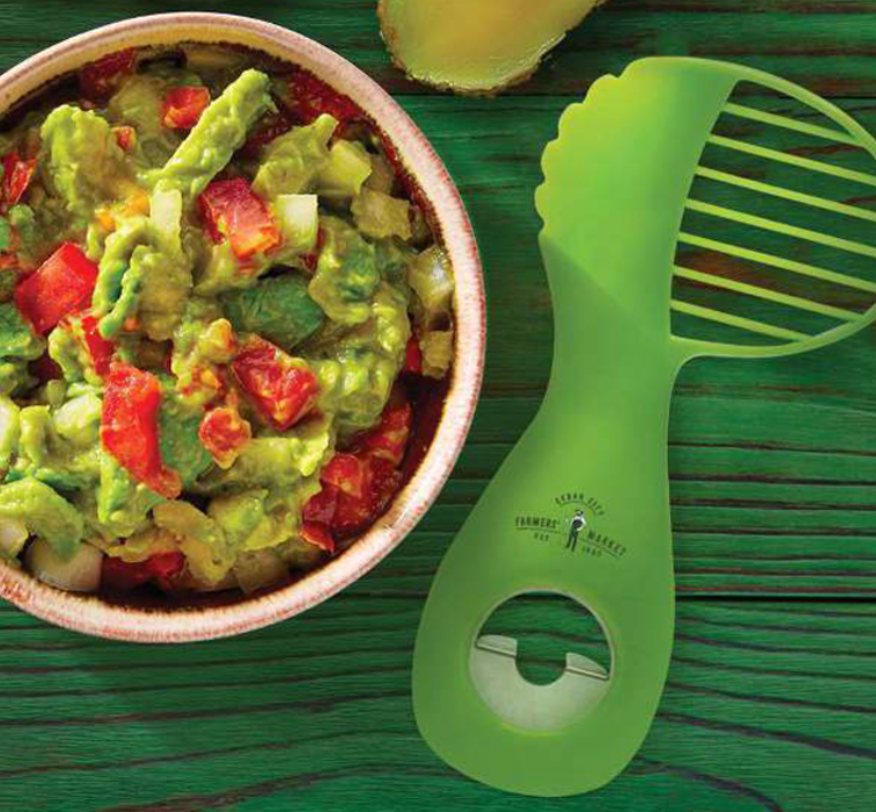 Cinco de Mayo Bar & Restaurant Promotion Ideas
Food and beverages are a staple of Cinco de Mayo, so celebrating the 5th of May is an easy win for restaurants and bars that want to get in on the festivities. Cinco de Mayo bar ideas can be as simple as mixing up unique Mexican drinks and serving them in custom barware, putting a Mexican spin on your entrees and incorporating fun games.
Of course, restaurants and bars aren't the only businesses that can take advantage of these holiday offers. Whether you need Cinco de Mayo casino promotions or ideas for coffee shops and other food venues, these fiery tips are an excellent way to get customers excited about your business.
Come Up with Special Deals for Customers
Cinco de Mayo is known for its flavorful Mexican cuisine and margaritas, which is why most Cinco de Mayo restaurant ideas incorporate these traditions. To make the most of the holiday, come up with unique deals to help customers celebrate the 5th of May. One of the best ideas is to offer specials that have the number "5" in them like $5 enchiladas or five tacos for $5.
You'll also want to make sure you have drink specials ready to go. An all-day $5 margarita deal, possibly with free refills, is an easy win for restaurants and bars. If you want to spice things up, you can always do your own twist on a margarita by adding flavors like peach or passion fruit. Make sure you stock up on Mexican beer and mezcal as well. With the right drink specials, customers are going to be flocking in your doors.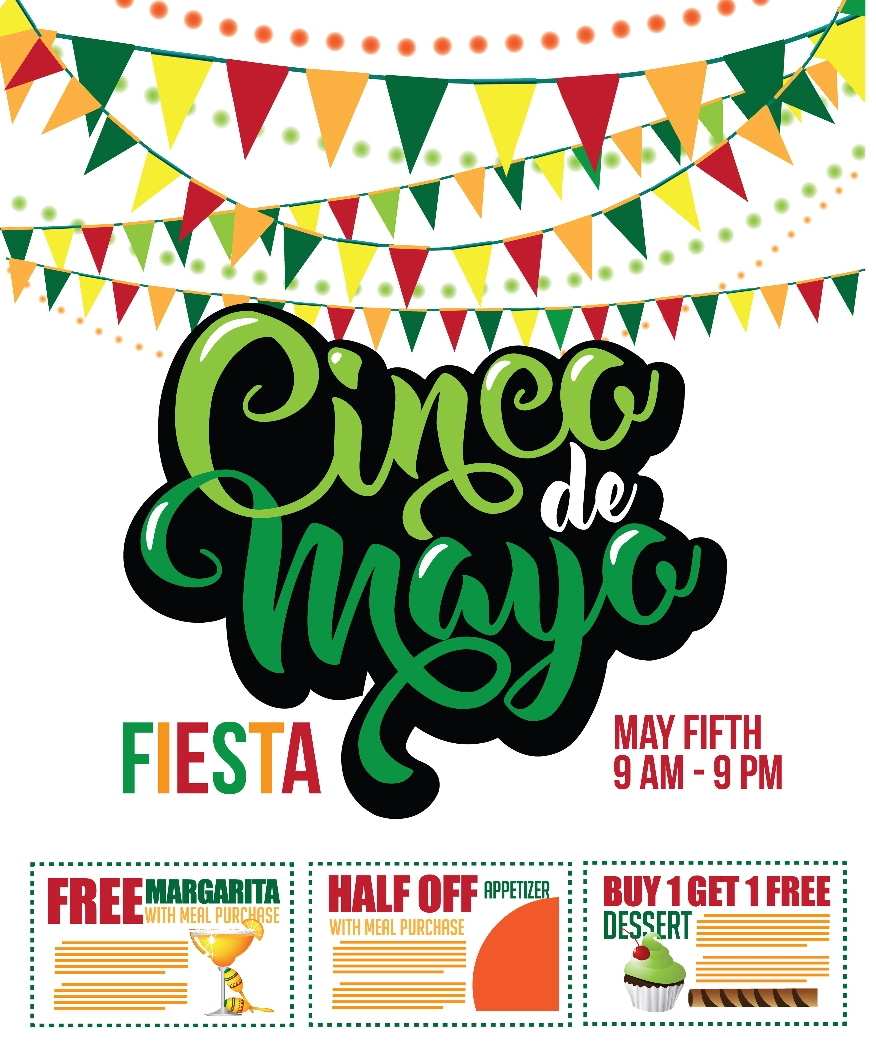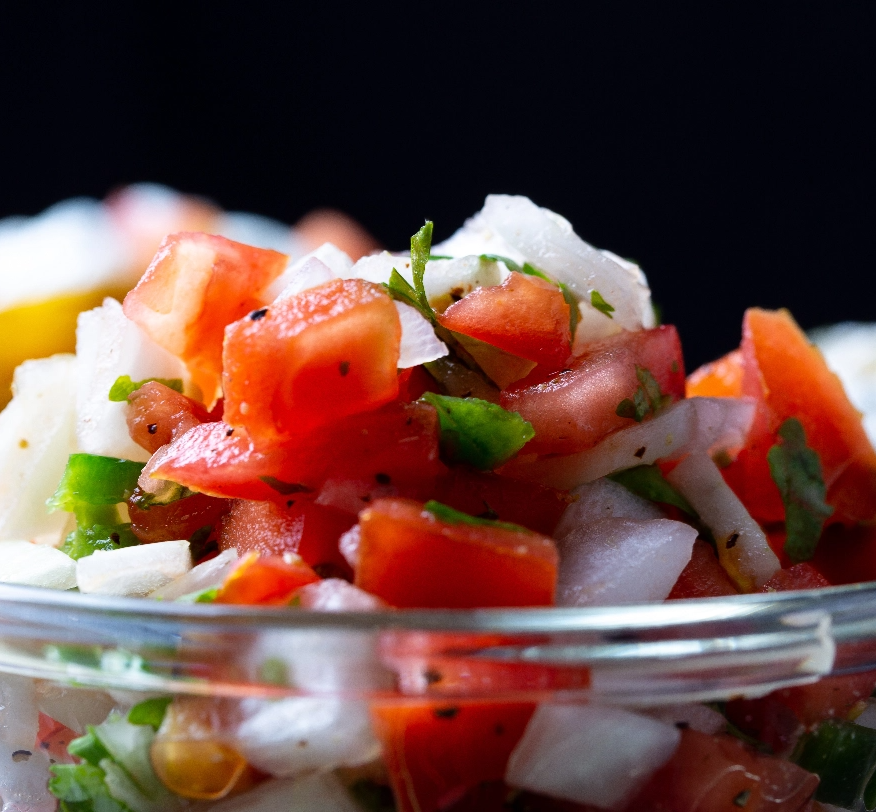 Add Mexican Apps and Entrees to the Menu
If you don't serve Mexican food, take advantage of the holiday by adding Mexican appetizers and entrees to your menu, or mix Mexican cuisine in with dishes you already serve. For example, if you're an Italian restaurant, consider serving taco pasta with sliced avocado, sour cream, jalapeños and queso. Bars can also get in on the actions by serving chips and salsa, guacamole or queso with the purchase of a drink. To get the most out of the holiday, run these offerings for five days leading up to Cinco de Mayo.
Decorate Your Venue
Create an environment in your restaurant or bar that makes customers feel like they've walked into the middle of a fiesta in a Mexican villa. Chili pepper lights and party banners are perfect for setting the mood when customers walk in the door, while fiesta beverage napkins and tissue flowers keep the party going when they sit down at the table.
You'll also want to make sure you have the right music playing on the speakers to build up the atmosphere. Mariachi music is always a go-to during Cinco de Mayo, but modern dance music from Mexico might be an even better option with the right crowd.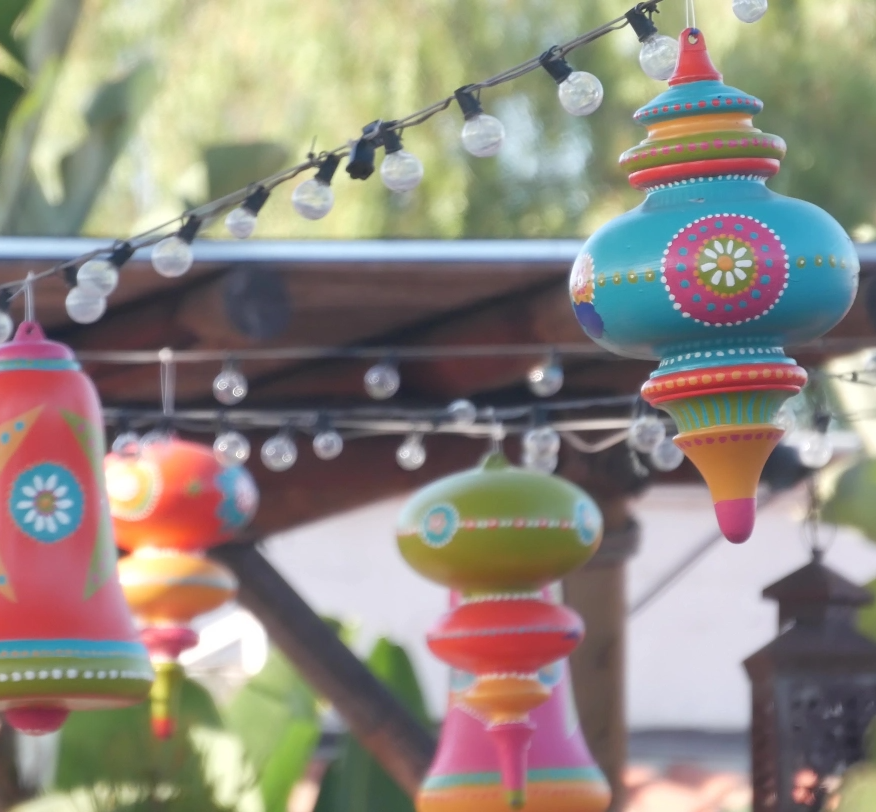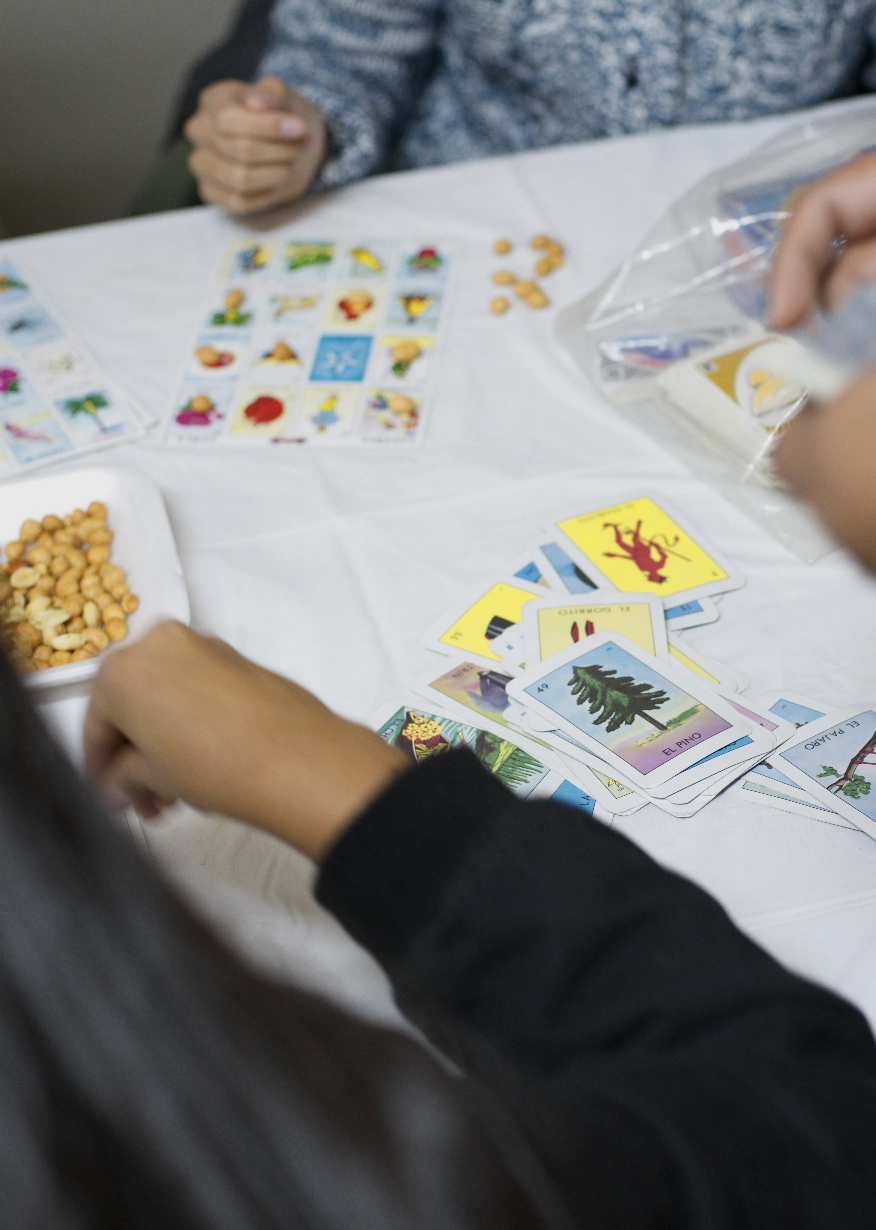 Make the Day Entertaining with Fun Games
Looking for Cinco de Mayo bar promotions to draw in customers? Games are not only great for getting people in the doors but also for getting them to stick around. Mexican trivia is an easy way to fire up the competition as groups go head-to-head to test their knowledge on questions about Cinco de Mayo. Another fun game for restaurants and bars is Mexican Loteria, a form of bingo. This game of luck is easy to enjoy, which means customers can sit back and sip their margaritas without having to overthink it.
Don't let the winners leave empty-handed. Cinco de Mayo gift baskets and snack boxes like the Batch & Bodega Fiesta Gift Box or the Taco Tuesday Night Gift Set are always hot items that customers will be happy to receive as a prize. You can also create your own Cinco de Mayo gift baskets with an assortment of Mexican candies and skull-shaped accessories.
Pick Up Cinco de Mayo Swag for Bars
Give customers a gift to remember their experience and encourage them to come back because of all the fun they had. Cinco de Mayo bar promotions like cups and can coolers go with the theme of the holiday. With vibrant imprints that are sure to stand out, you can decorate the items with traditional Mexican designs like chili peppers, sombreros, and ponchos. If you want to thank customers for celebrating with you, consider these Cinco de Mayo promotional items: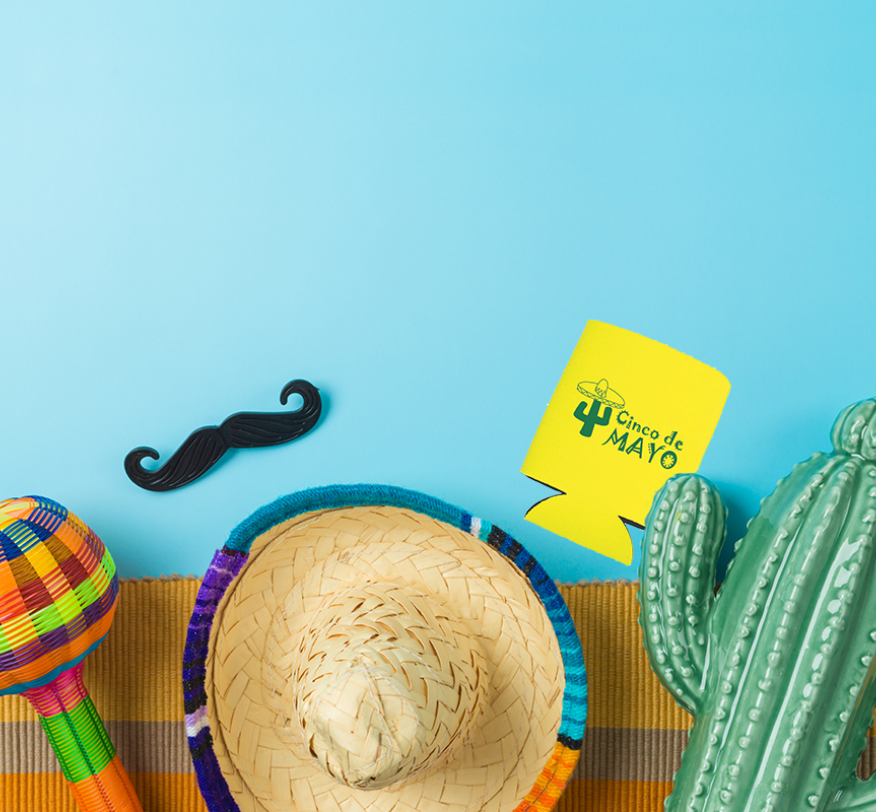 Cinco de Mayo Marketing Ideas for Any Business
Whether you run a small boutique store, a bakery, or any other type of business, coming up with unique Cinco de Mayo marketing ideas can drive engagement and increase brand awareness for your business. Prepare for the holiday ahead of time by picking up Cinco de Mayo merchandise, offering special deals and promoting the event on social media and in your storefront.
Cinco de Mayo Giveaway Ideas
There are a ton of Cinco de Mayo giveaways that people will appreciate but won't break the bank. Since the holiday is celebrated in May, spring promotions are excellent options for retail stores and flower shops. If you sell home decor, kitchen accessories with festive designs are sure to be a hit as well. Here are some of our favorite Cinco de Mayo promotional items to help you get started: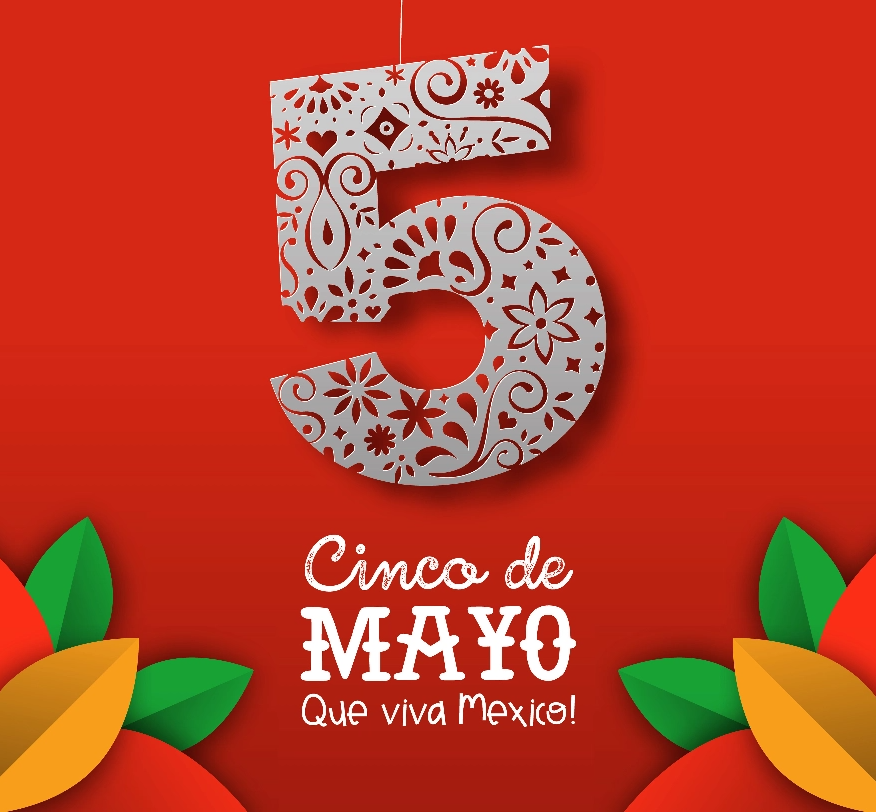 Specials Deals with the Number 5
Since Cinco de Mayo takes place on the 5th of May, incorporate the number "5" into your Cinco de Mayo promotions. Whether you sell five items for $5 or run five days of deals leading up to the event, there are a ton of marketing ideas you can use to attract customers. You can even put together Cinco de Mayo gift bags with five items that incorporate flowers, cacti, and other designs specific to the holiday.
Outdoor Signage and Indoor Banners
You'll want to let people know you're getting festive on Cinco de Mayo, so pick up outdoor signage that's colorful and inviting like the 3' x 10' Indoor/Outdoor Event Banner and the 10.5' Value Single Sided Razor Sign. When people are actually in your building, set the atmosphere by imprinting indoor banners with quotes like "Don't tequila my vibe" or "Fiesta all day, siesta all night."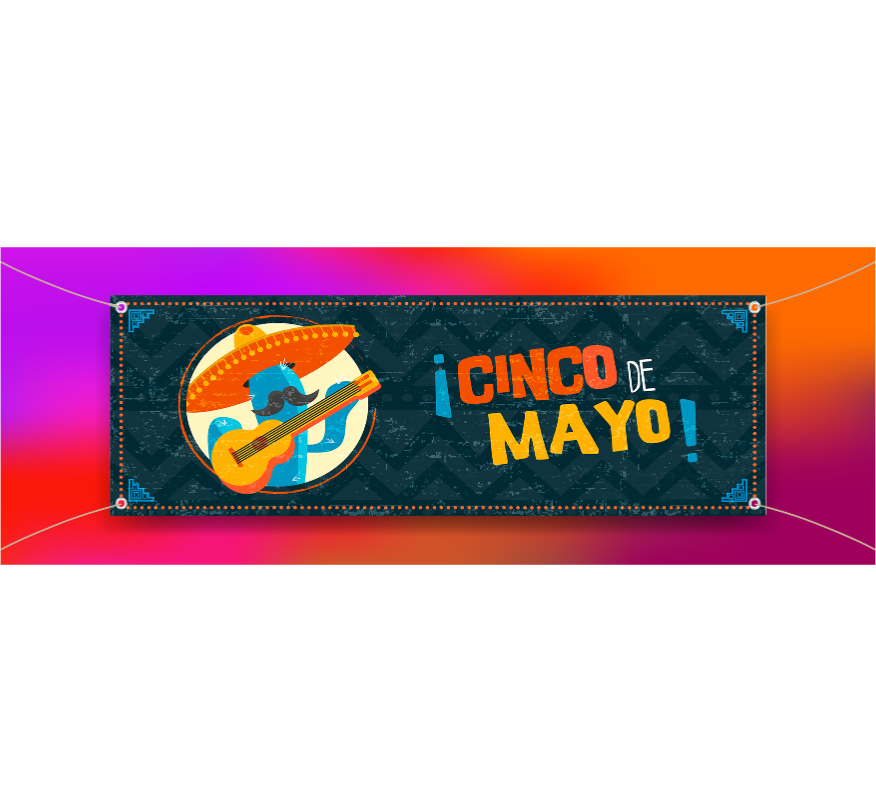 As you can see, Cinco de Mayo provides a great opportunity for your business to celebrate with employees and customers through games, food, drinks, and music. All it takes is a little preparation and vibrant decorations to make your fiesta a huge success. So, pick up some Cinco de Mayo merchandise for your event and get ready to celebrate!