9 Personalized Travel Gift Ideas for Your
On-the-Road Employees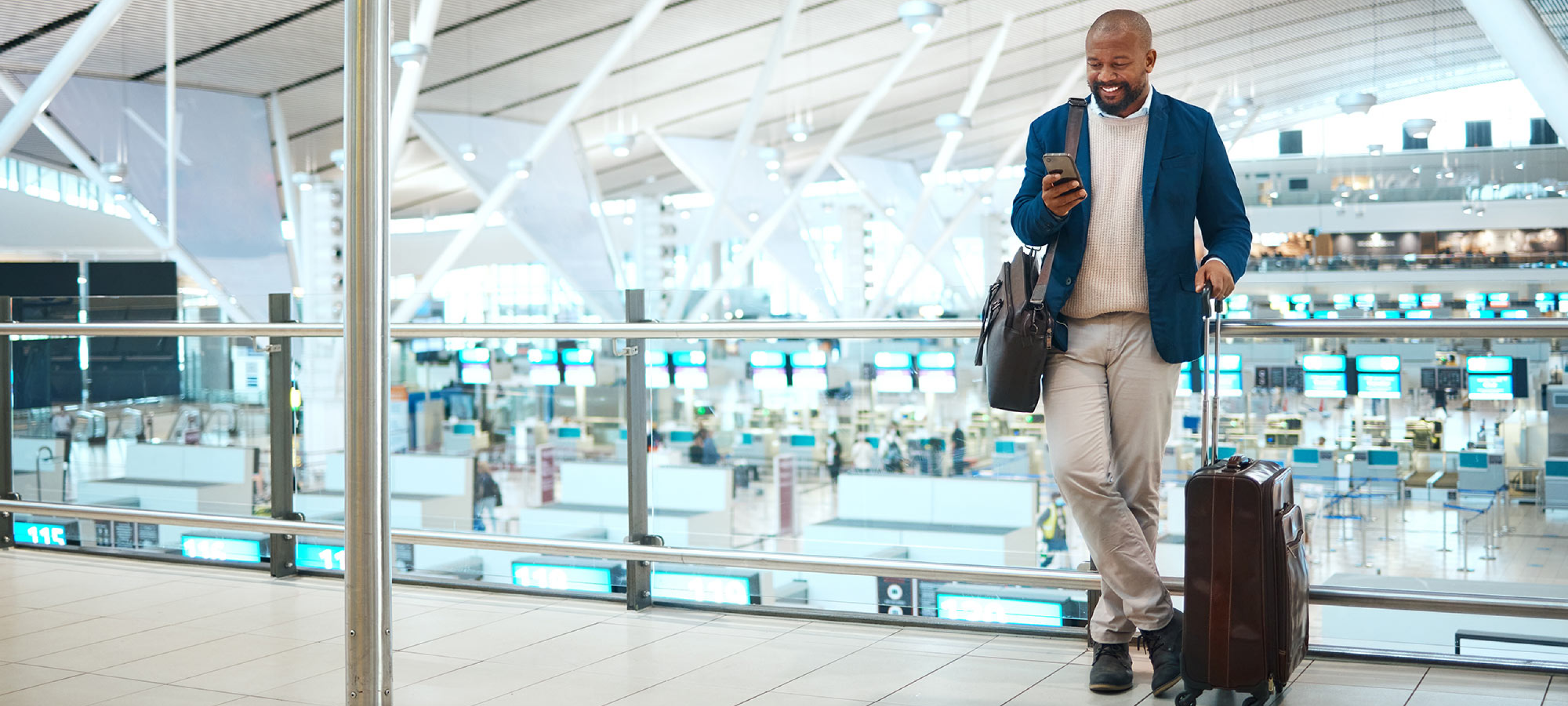 published: July 26, 2023
US business travellers are on the move again. Taking more than 405 million long-haul business trips every year, US employees are representing their companies while far outside of the office walls.
As business travel resumes in full force again, employers are looking for the perfect ways to keep team spirit and unity strong, even while their employees are spread out across the country – or even the world. Helping business travellers prioritize personal wellness and comfort while on the road is also important for their job satisfaction.
That's why we've put together the top nine personalized travel gift ideas to show your jet-setting employees that you appreciate them no matter where they go.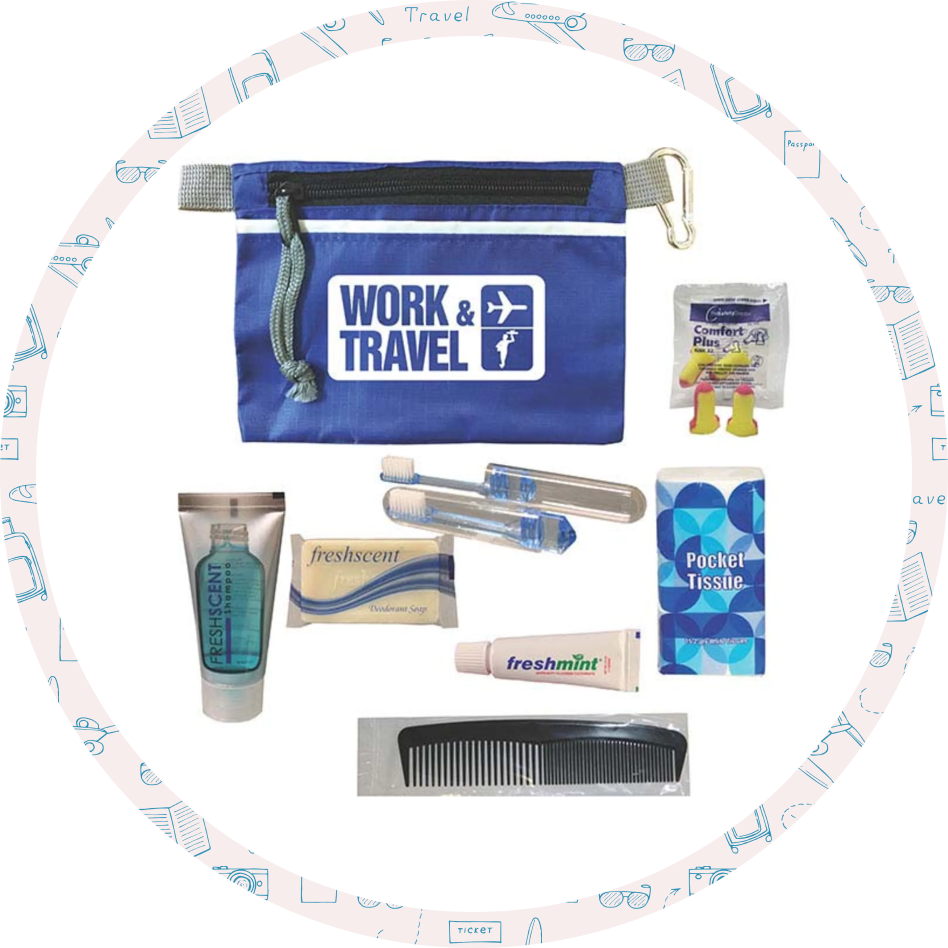 1. Keep Them Organized with
a Business Travel Kit
Business travellers often head straight to a meeting or business engagement the moment they land. Giving them a customizable business travel kit can make freshening up more convenient. That way, employees can feel their best when they represent your company.
Most business travel kits will include mini samples of hygiene and wellness products, so your employee doesn't need to fish through their suitcase for their larger toiletry bag.
Here are some items to consider including in a business travel kit:
A toothbrush and mini tube of toothpaste
Mouthwash
Hand sanitizer and wipes
Fabric spray refresher
A stain/spot pen for clothing
Tissues
A small packet of aspirin
Ear plugs
Gum or mints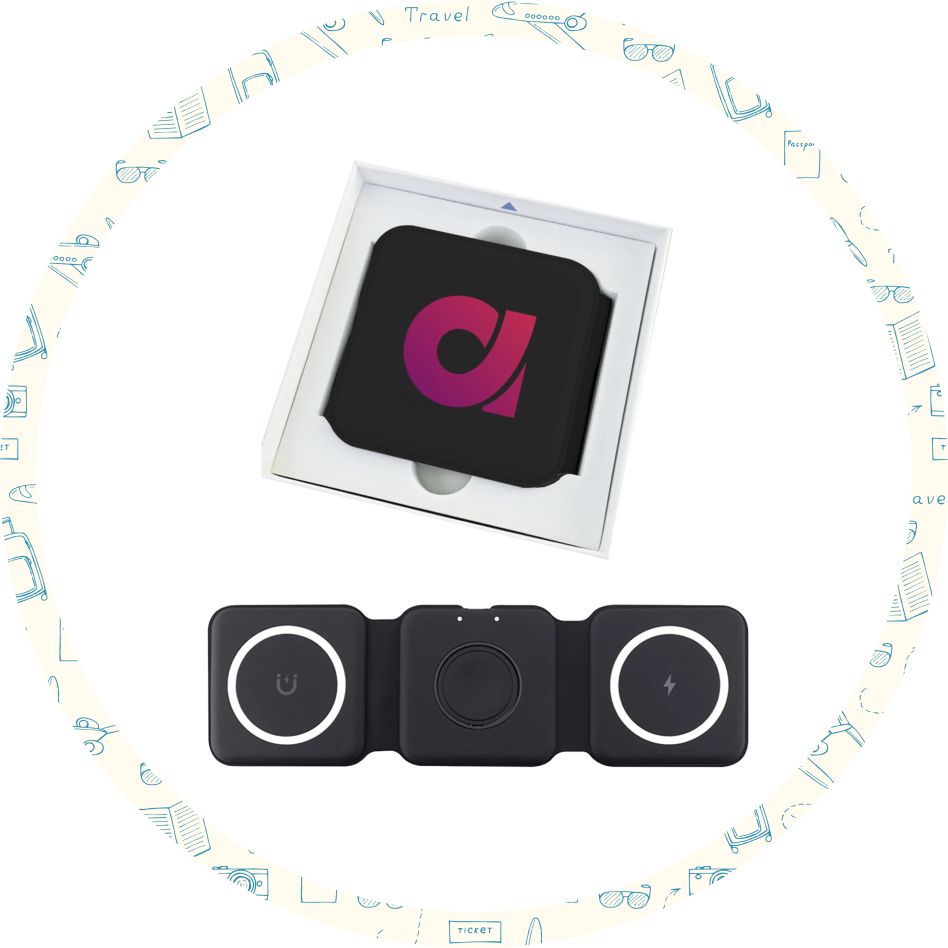 2. Power up their Devices
with a Travel Charger
Picture this — your representative is traveling, and after landing, they see their phone has a five percent battery charge. Add to this, they're due on a conference call in thirty minutes. Cue the stress, panic, and search for a charging station.
Destress your business travellers with a 3-in-1 travel charging mat. This charging mat has the modern business traveller in mind. It allows them to simultaneously charge all of their Qi-enabled devices – cellphone, smartwatch, and earbuds. Or, keep it simple by giving them a portable power bank to charge their device discretely in their briefcase instead of on their tray table.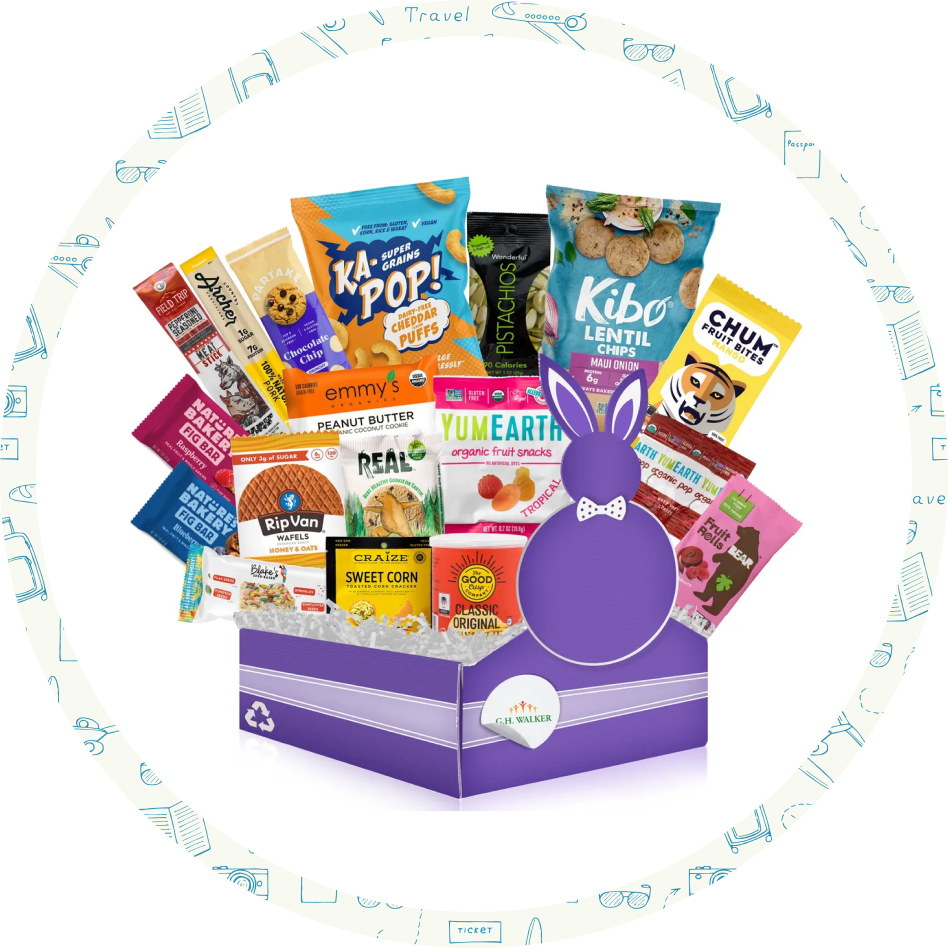 3. Fuel Their Trip with a
Customized Snack Box
Inflation has hit every industry and sector, and airport convenience food is no exception. Add to this, boarding a plane in business attire with a greasy cheeseburger is an invitation for a shirt stain. Give your employees a more convenient option with a Personalized Snack Attack Box they can graze on. Complete with a travel tumbler, you can fill this box with popcorn and a variety of candy.
Are you sending the team cross-country or across the pond? Inflight mini-pretzels or generic cookies don't always hit the spot. A Bunny James Premium Sampler Variety Box has 20 options to suit everyone's tastes. Make the snack box available before their trip, so they can choose to pack whatever they'd like into carryon bags.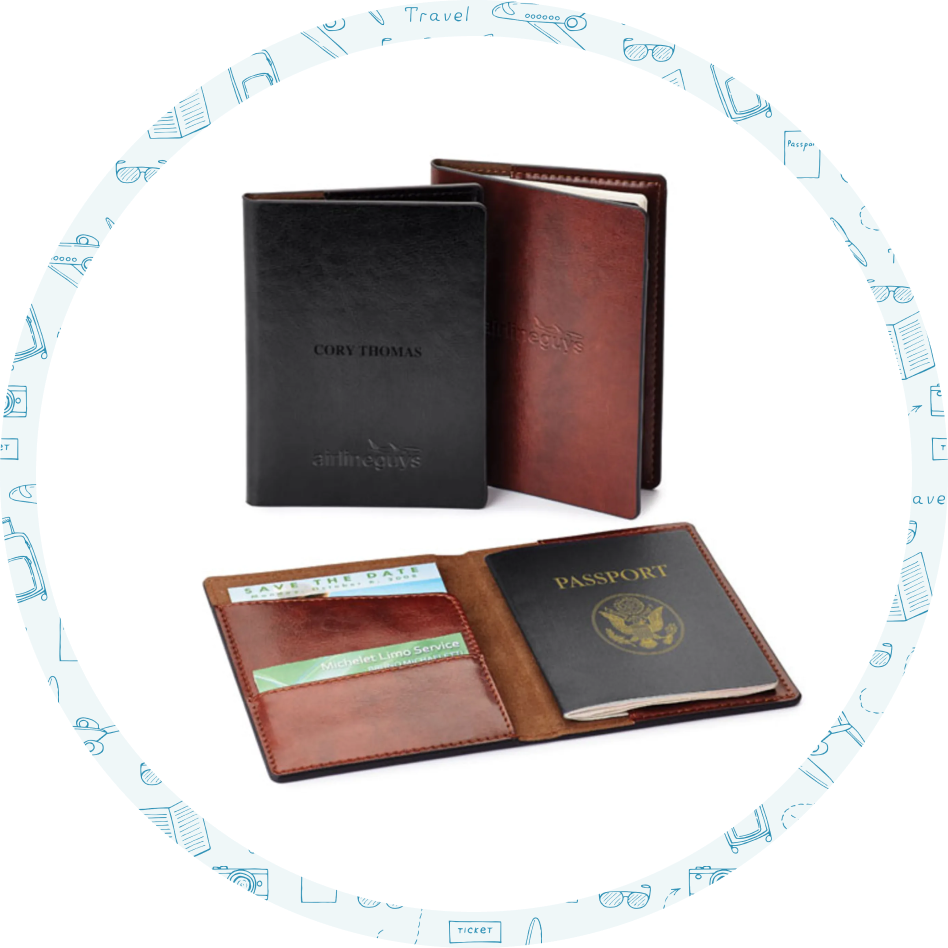 4. Help Them Protect Their Cards &
Currency with a Travel Wallet
No matter how safe the city or country, it's wise to help your team keep their cards and currency as safe as possible for their next business engagement. The Elleven™ Traverse RFID Travel Wallet will give your team peace of mind with its radio frequency identification (RFID) technology, protecting them from identity theft. It's a full zip-up wallet with mesh, privacy-enhanced slots for their identity cards.
If you're looking for a sleeker option with the same identity protection capability, opt for giving them an RFID Memo Book & Travel Case. You can deboss the exterior with your brand's logo and purchase them in bulk, so you'll always have them for whoever takes off next.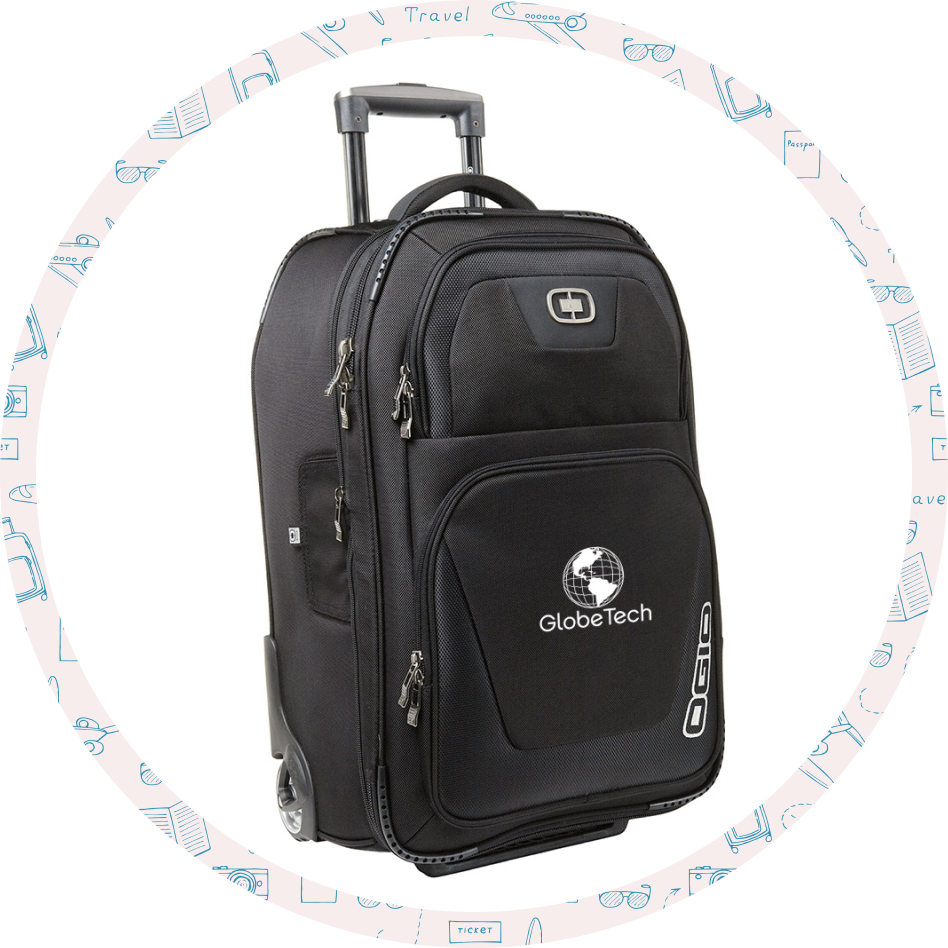 5. Make Packing Simple with
a Personalized Travel Bag
Scroll through any airport, and business travellers look effortlessly chic with their matching luggage and travel totes. When you send your team to a business engagement, keep in mind that they represent your brand from the moment they step off the plane.
The Ogio® Kickstart 22 Travel Bag is customizable and sleek. Its retractable locking handle, in-line skate wheels, durability, and standard cabin baggage size make it a must-have for your frequent travellers.
Today's business travellers will likely return home with a few souvenirs. Send them out with a custom bags or totes with your logo and take advantage of the free advertising while they shop their hearts out.
Don't have the budget for luggage pieces? Branded luggage tags are an easy, affordable, lightweight, yet thoughtful gift item for your on-the-go staff. The Tuscany™ Luggage Tag offers an elegant look in debossed faux leather.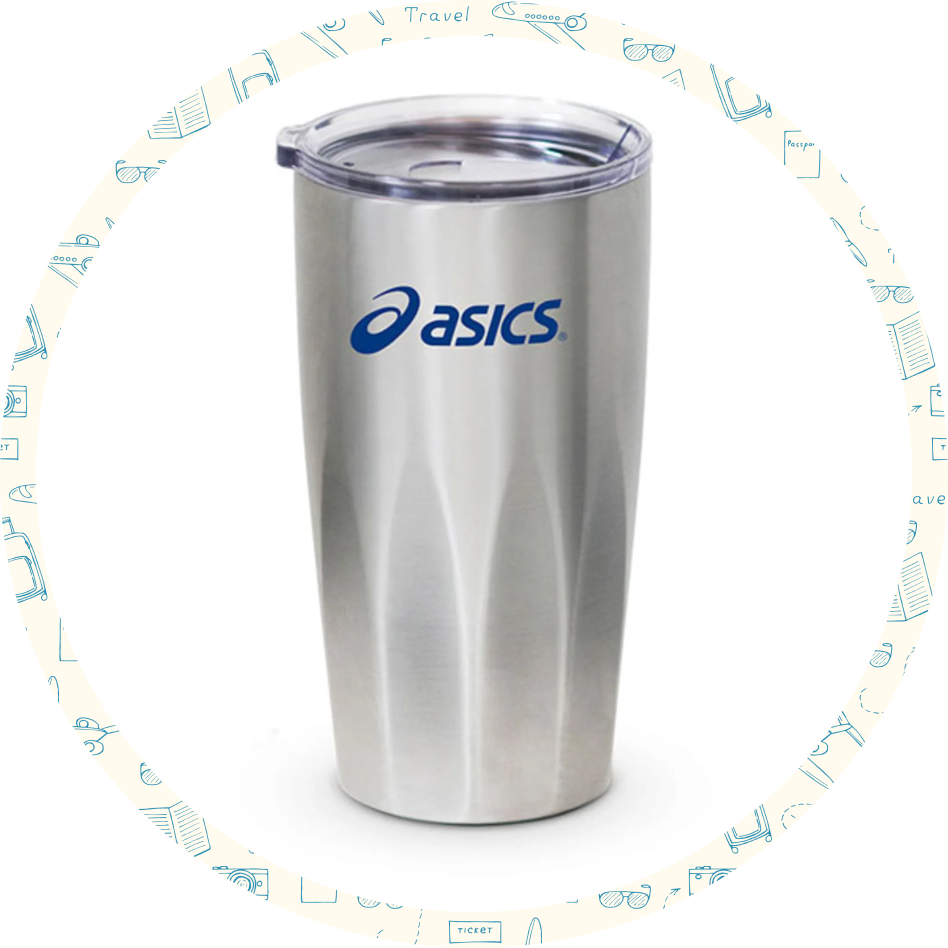 6. Send Them Off with a
Customized Travel Mug
Those early morning business flights often require a cup (or three) of coffee or tea. If your employees rush to make their flight, they might not have time to duck into a coffee shop. And do we even need to mention how starting a work trip without caffeine can get the journey off on the wrong foot for many employees?
They can save time and money by bringing their beverage in a custom travel mug like the 20 oz Pinnacle Travel Tumbler. Insulated, durable, and customizable, this mug will let them sip in style and represent your brand simultaneously.
For those travellers who prefer a cold brew or an iced XYZ latte, our 16 oz Thermos® Stainless King™ Stainless Steel Travel Mug will keep their cold beverages icy for 18 hours. When they reach their destination, they can refill their mug at their hotel, saving them time and money there, too.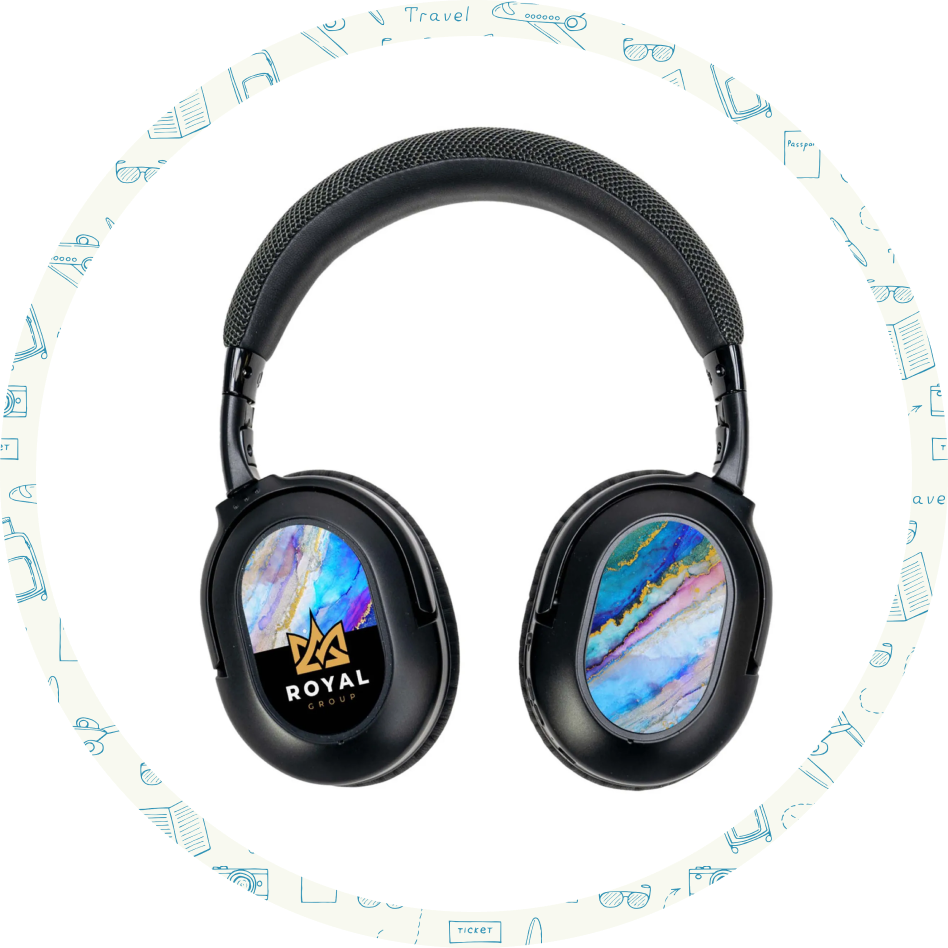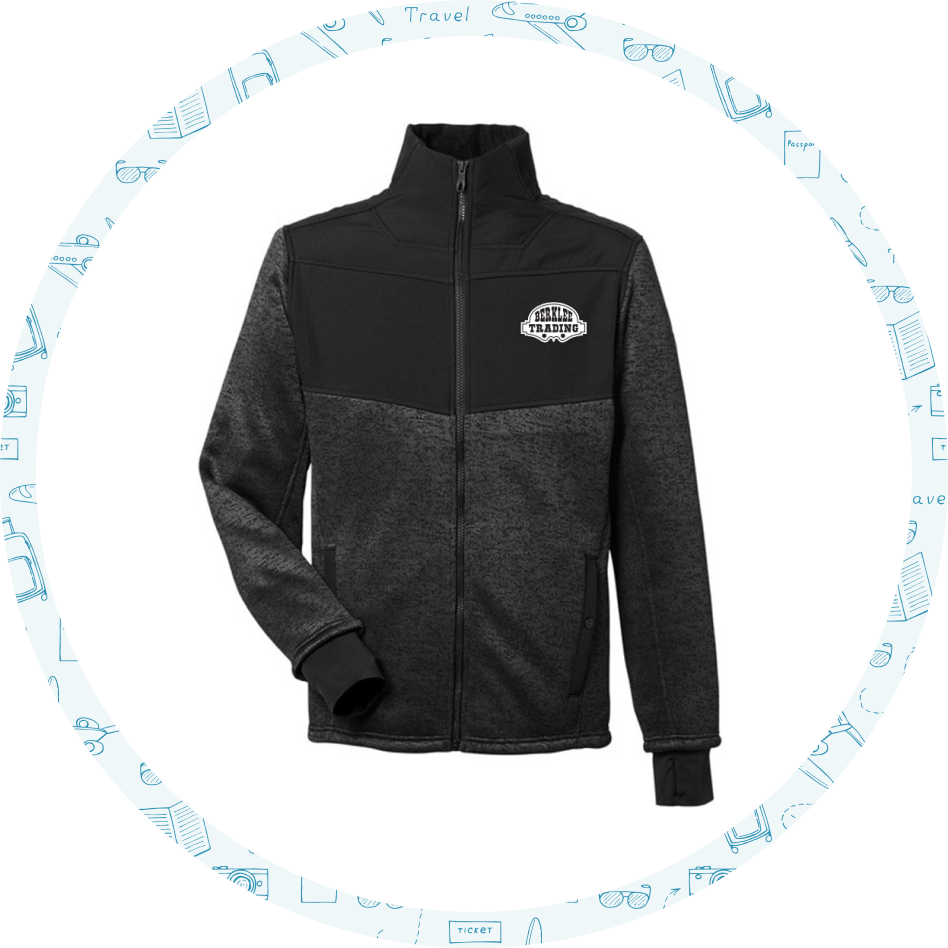 8. Deck Them Out in Comfortable, Branded Travel Attire
Whether we travel for business or pleasure, comfort is a top priority. Knowing what to wear during business travel can be stressful. But it doesn't have to be. You can make the night before their trip even smoother by outfitting them with comfortable Branded Apparel and Custom Clothing to wear while they travel.
Depending on where their business engagement is, consider giving them diversified options like the Spyder Passage Sweater Jacket to weather any climate. Notice rain in their travel forecast? Customize a Torrent Rain Jacket with your logo to keep them dry and on brand.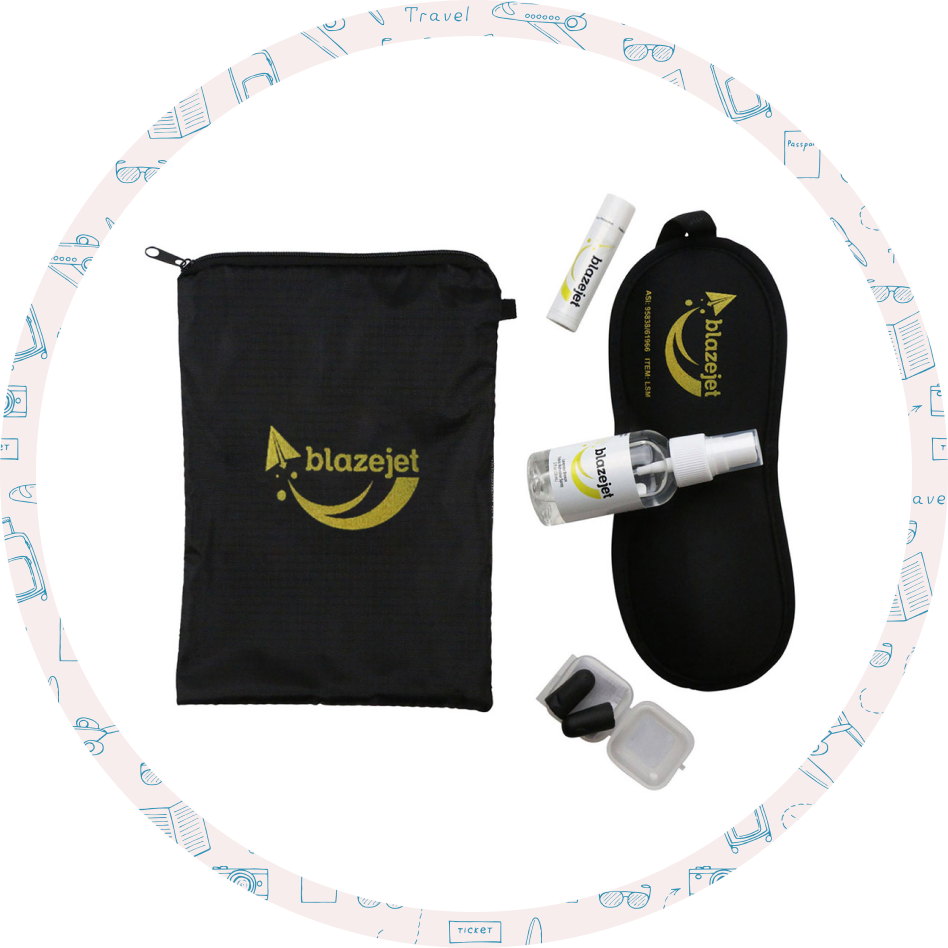 9. Show Them Their Health & Wellness are a Priority Everywhere They Go
Whether they're traveling for business or pleasure, your employees' health, safety, and wellness should always be a top concern. When they represent your company, you'll want to make their travel experience as comfortable as possible.
Create a Custom Self-Care Gift Package with travel essentials and comforts to elevate their experience, where you can include:
Ready to Choose the Best Personalized Travel
Gifts for Your Team?
Near or far, no matter where they are, showing your team that you prioritize their safety and comfort will reinforce your company's commitment to them as individuals, not just as employees.
Geiger offers a wide range of personalized travel gifts to please everyone on your team, from domestic travellers to international jet setters. We invite you to contact us today and let us help you choose the personalized travel gifts your team needs any time they hit the road.