Renew Your Brand with the Coolest
New Eco-Friendly Gifts for 2022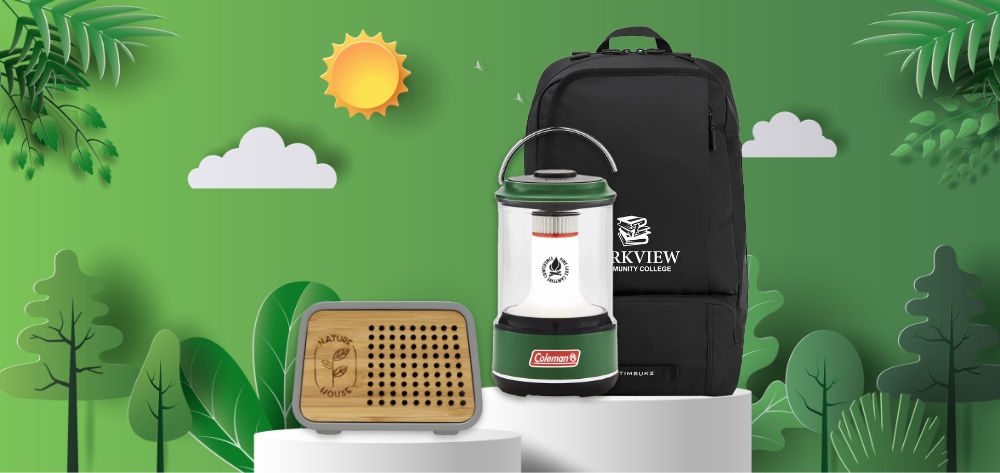 published: April 13, 2022
Sustainability as a priority is here to stay. Consumers around the world are more sensitive than ever to environmental responsibility and protecting the earth for future generations. Although everyone loves free gadgets, businesses and organizations are turning to innovative products for the environment when it comes to giveaways. They want to be thoughtful about their swag, ensuring that it not only spreads the corporate message but is also useful and sustainably produced.
We want to be a partner in that mission. As part of our commitment to corporate environmental responsibility, we've introduced a host of new innovative and eco-friendly products designed to help you meet both your marketing goals and green objectives.
Some of our innovative sustainable products are made from recycled or biodegradable material, can be recycled easily themselves, or are sturdy enough to be reusable over time. Many of our cool sustainable gifts are produced by companies that donate a percentage of profits to environmental groups or have strong partnerships with well-known companies that share their environmental vision.
When it comes time to order giveaways for your next trade show, conference, employee appreciation event, or community outreach initiative, be sure to consider some of these cool sustainable products.
Add Your Logo to the Best Eco Products for 2022
There's nothing quite like having your company or organization logo on really cool sustainable products. When the swag itself is unique enough to turn heads, that means your message gets an extra glance as well.
Take for example, the 16 oz The Grind Eco Cup, which is made from 50 percent coffee grounds, 15 percent cornstarch, and 35 percent melamine material. Just about everyone can be seen walking around with their morning brew. Have your employees, customers, or stakeholders take theirs in this chic made-by-coffee-for-coffee mug.
Looking for a unique gift for employees? Consider our Stainless Steel Cutlery Set in Pouch. This eco-friendly alternative to disposable plastic silverware is a travel utensil kit that includes a knife, fork, spoon, chopsticks, two straws and a wire cleaning brush. Add your logo to the protective pouch and spread your environmentally friendly message.
Your top customers will appreciate our unique 5-piece Magnetic Bamboo Cheese Board Set, complete with a trendy bamboo wood tray and flip-up magnetic utensil holder that includes a cheese fork, spade, and two knives. This attractive gift is perfect for small gatherings or picnics and is made with a 100 percent renewable resource.
If your logo is looking a little lonely on your branded merchandise, add fun eco-conscious sayings and quotes like "There is No Planet B" or "Make Every Day Earth Day" to create unique and fun gifts that are perfect for Earth Day or any day on Earth. Here are a few great gift items to use as a canvas: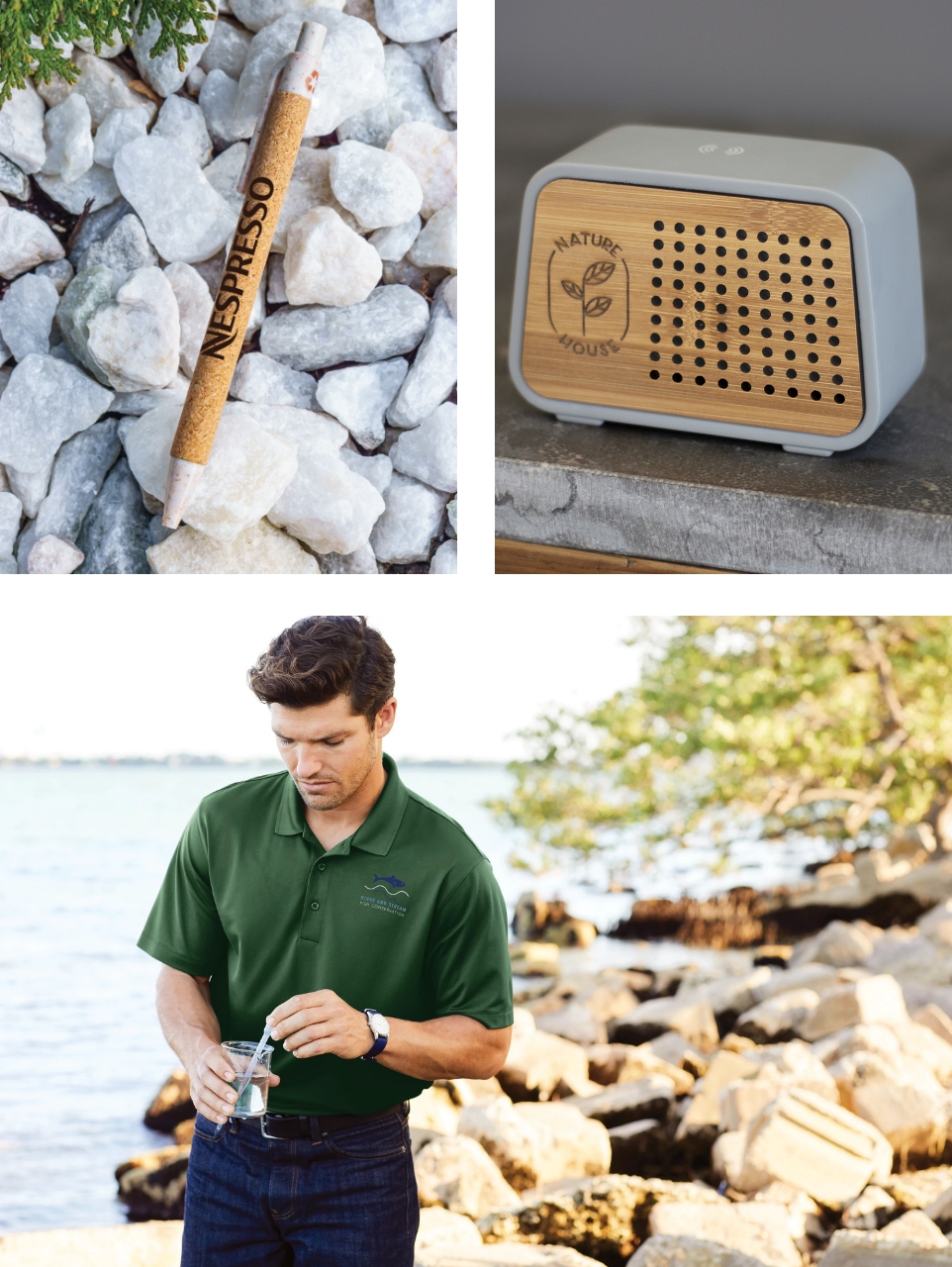 Unique & Innovative Sustainable Products
Too often when people think of swag, what comes to mind is an endless supply of short-lived pens, weak refrigerator magnets, or cheap plastic throwaway items. Those giveaways are on their way out as companies seek to find environmentally friendly and more useful alternatives.
We have recently introduced some extremely hot sustainable products that simply can't be beat. Encourage mindfulness among your employees with our stylish Cork Yoga Mat, showcasing your logo discreetly in one corner. Stressed employees will appreciate the top layer, which is made from natural cork that provides excellent cushion, traction, and grip. Naturally organic and antibacterial, this cork yoga mat provides a sanitary surface for every session. Bonus: cork is a renewable resource and completely biodegradable.
Sure to please children of all ages, our popular Aurora® Eco-Nation Plush toys are perfect as holiday gifts for employee families or as a giveaway at a community event. This all-sustainable plush line is made from 100 percent recycled materials, gentler on the environment as well as in the hands of little ones.
Brighten the corporate cubicles or home offices of your employees with our unique Air Plant, which adds much-welcomed greenery to any space with very little upkeep. Feature your brand or inspirational message on the wooden holder and get ready to hear the buzz about those innovative and trending corporate gifts.
Here are some of our top sellers:
Cool Eco-Friendly Products New to Tech
What's cooler than eco-friendly meeting tech? Share the latest technological ideas with a splash of sustainability in their design to really become the talk of your next conference or event. We have introduced a wide range of swag made with sustainable and zero waste resources like bamboo and wheat that are still cutting edge when it comes to tech performance.
The Wheat Recycled TWS Wireless Earbuds are made from 35 percent recycled wheat husk and support the latest wireless technology with up to four hours of playback time. Your recipients can enjoy up to three recharges with a handsome charging case that can be imprinted with your logo, spreading your brand image and nurturing a love of music at the same time.
Employees on the go will appreciate our Auburn Tri-Fold Wireless Desk Pad, which is fully equipped with a laptop or tablet stand, bamboo wireless charger, and bamboo business card and pen organizer. Magnets hold everything in place, making your all-in-one office ready for Qi connections anytime.
Check out other tech accessory favorites below: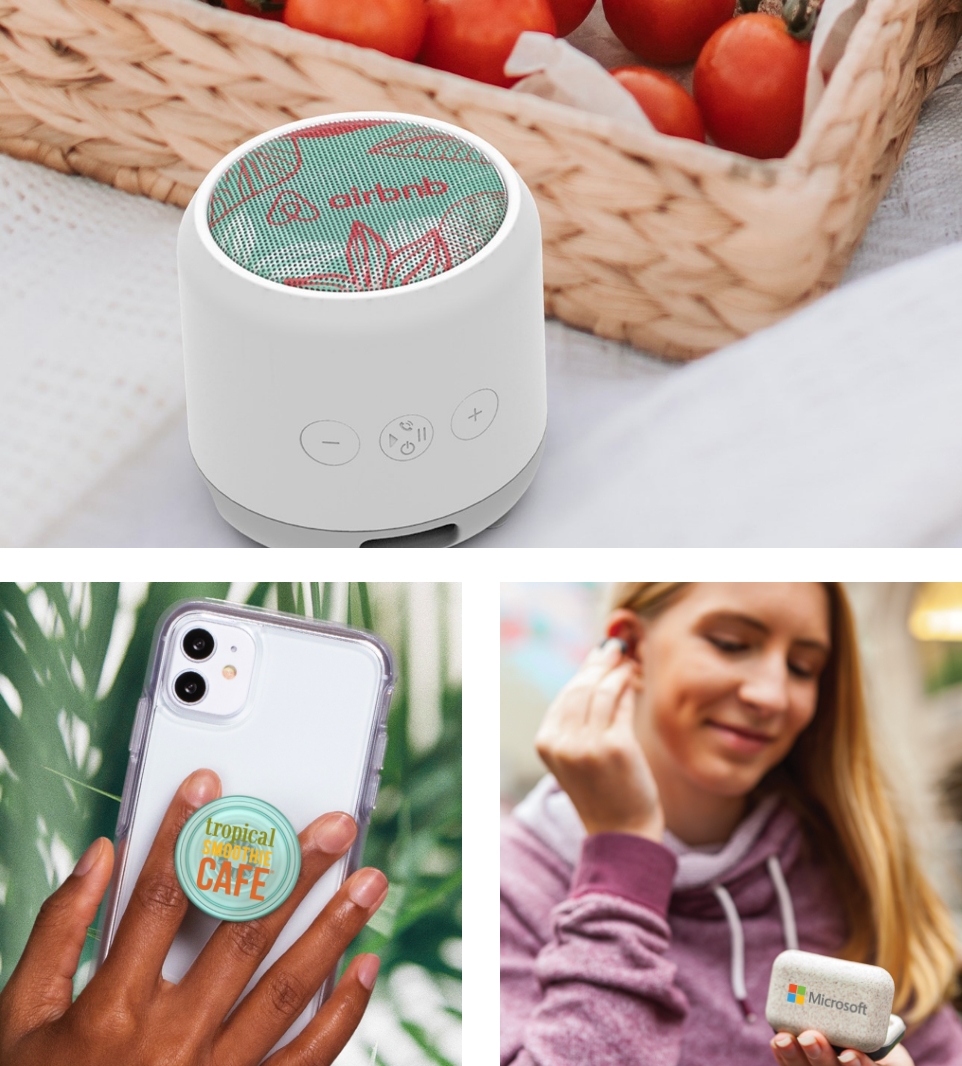 New Eco-Friendly Products from Brand Names You Can Trust
In the business world, it's all about the company you keep. Take advantage of the opportunity to imprint your logo alongside other well-known and eco conscious brands who are just as committed to sustainability as you are. Whether you're looking for swag gifts to pass out at an upcoming customer event or employee dinner, you'll find something unique and appreciated here.
The 20 oz CamelBak Eddy® + Bottle Tritan™ Renew water bottle is made from a durable and sustainable material that contains 50 percent recycled plastic. Athletes and others who enjoy the great outdoors will appreciate this shatter-, stain- and odor-resistant water bottle that's also produced in an energy efficient manner. In addition, a partnership with 1% For the Planet means that one percent of sales are donated to nonprofits protecting the environment.
Place your logo alongside Coleman's useful LED battery lanterns. Developed with a new technology, these energy efficient lanterns automatically disengage the batteries from the circuit upon shut-off, which extends the life of the battery by 25 percent. And LED bulbs never need replacement.
Get more details about these and other popular choices: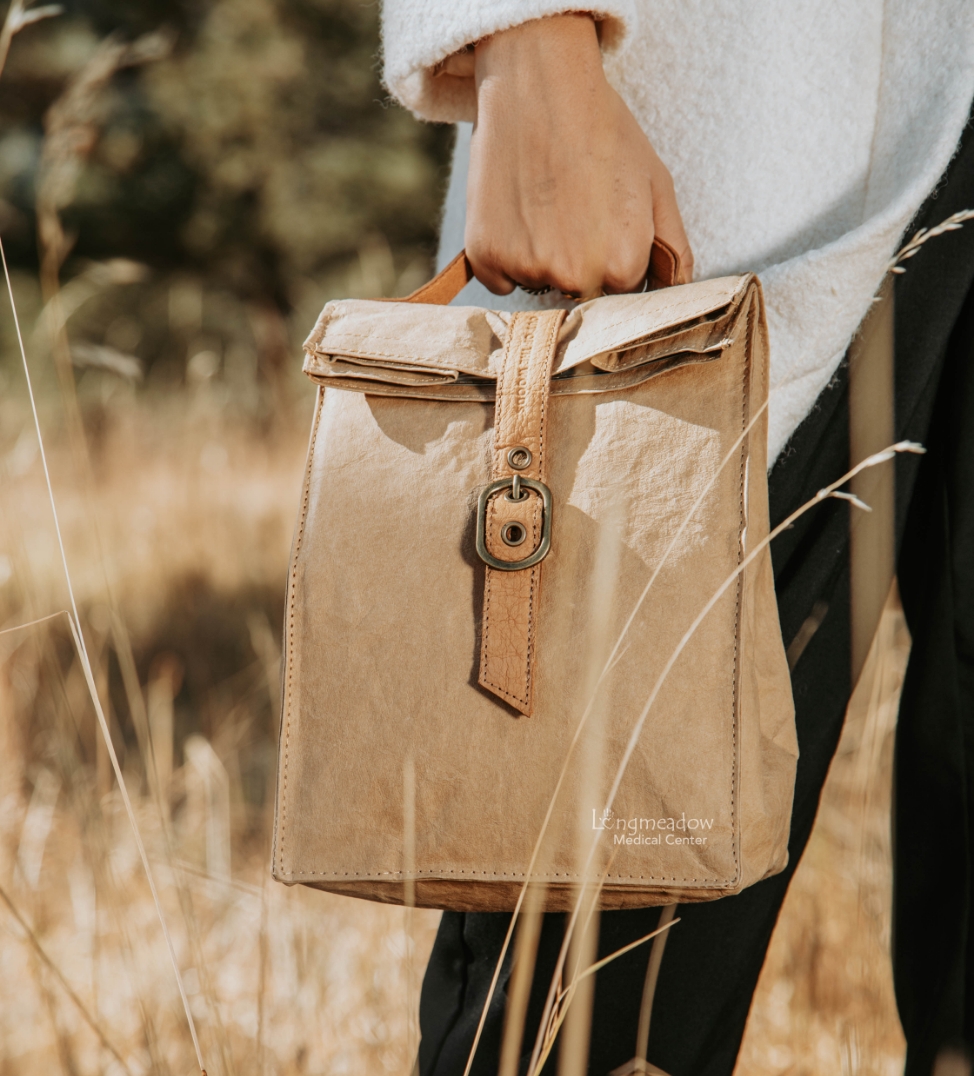 Gift Sets Featuring Innovative and Eco-Friendly Products
Remote workforces are no longer a rarity. In fact, many organizations operate completely virtually today. Just because you can't get everyone together for an old-fashioned team building event doesn't mean you can't send a little appreciation their way.
We offer several gift sets that are easy to mail, making it simple to appreciate your remote team from anywhere or say thank you to your far-flung customers, suppliers, or partners.
The Bare Essentials Home Office Kit contains a Kraft pouch and paper journal along with a Bamboo Harvest pen and speckled mug. Bamboo products are unique, renewable and 100 percent biodegradable. Imprint your brand and message on multiple items in this easy-to-ship gift set.

We are committed to offering useful, high quality promotional items to meet your every need. We want to help you share your brand and message with employees, customers, and other stakeholders. For many organizations today, part of that message is one of care and concern for our environment.
We have introduced some of the best sustainable products in 2022 to help you meet both marketing and environmental responsibility objectives. Be sure to browse these and other products the next time you are ready to order giveaways for a trade show, conference, community event, or employee appreciation gala.