Sustainable Promotional Products & Swag - More Than Just a Trend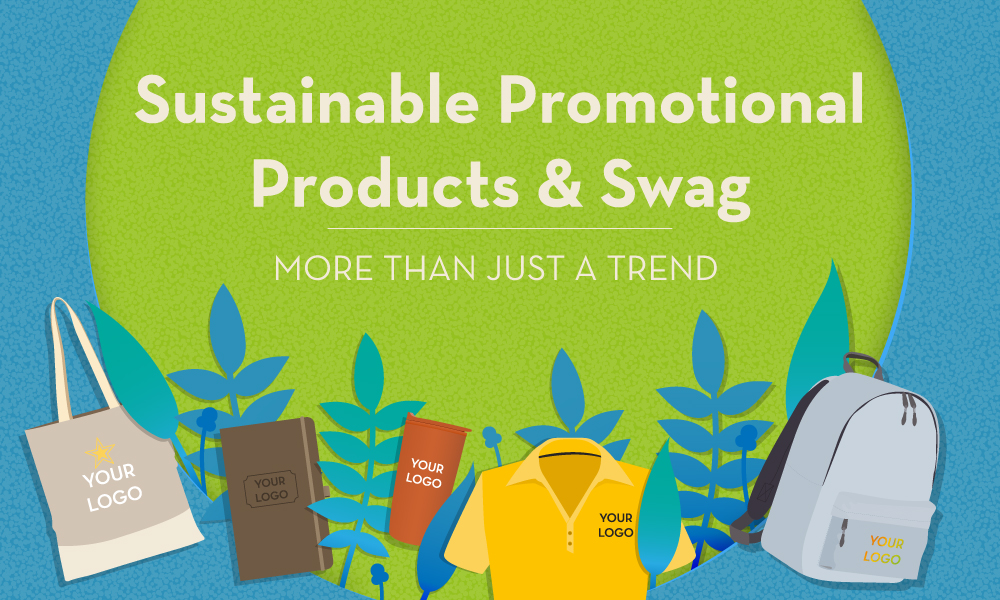 published: April 5, 2021
Sustainable is a buzzword that's been on everyone's radar recently. What does it mean, though? According to the United Nations, "sustainable" addresses issues that future generations will face when it comes to meeting their needs of supply, meaning the focus is aimed at the future. That's a bit different than eco-friendly, which refers more particularly to processes that do not harm the planet.
In an effort to keep pace with the green movement, manufacturers of promotional products have been finding ways to address sustainability in their business practices. There are several ways manufacturers have made their products more sustainable while creating eco-friendly promotional products as well.
What makes a product sustainable?
The power of renewable materials

When it comes to sustainable promotional products, renewable materials like eco-friendly bamboo and recycled cotton ensure that the creation of products will not deplete resources that can't be easily replaced.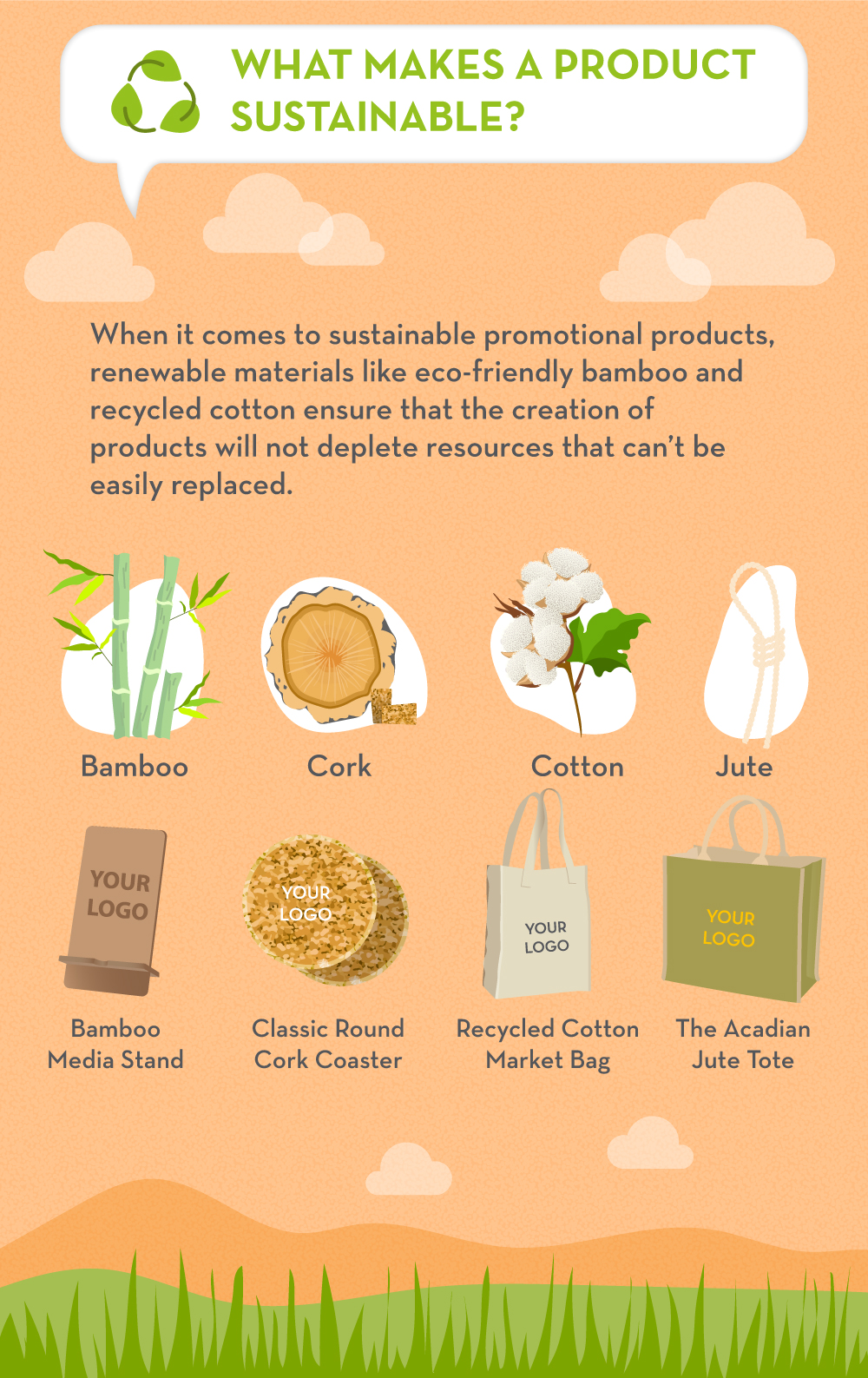 Donations to causes that sustain human life

Donations go a long way when it comes to sustainability. That's why companies have taken the initiative by donating part of their sales to causes like clean water and green initiatives.
Clean water
Green initiatives
Building community
World health
Manufacturing that doesn't poison the environment

As manufacturers aim to improve their impact on the environment, they are always searching for ways to reduce their carbon footprint. That doesn't mean no impact, but it does represent a dedication to do better.
Sanmar
Hit Promotional Products

Hit is a supplier of customizable promotional items and corporate gifts that has been improving its sustainability practices, including reducing volatile organic compounds and hazardous air pollutants, as well as filtering its wastewater before it goes to local water treatment facilities.
View our collection of Hit promotional products to find gift ideas that created with the sustainability efforts listed in the graphic below: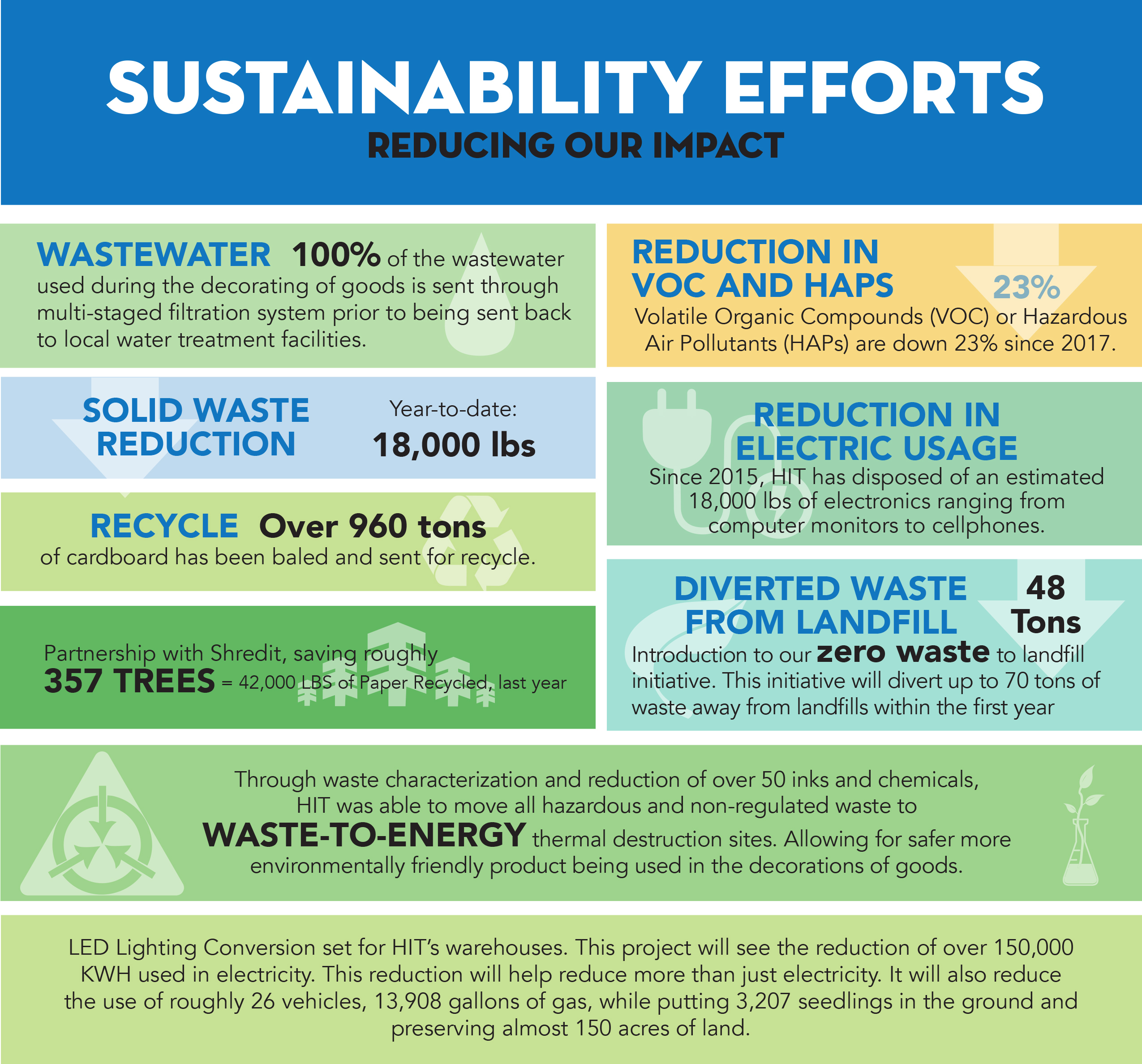 Manufacturing that recycles

Manufacturers are finding unique ways to use recyclables to create sustainable branded gifts like the 13" Parkland Vintage Computer Backpack that's constructed from 100 percent recycled water bottles.
Manufacturing that uses renewable energy

The 5" x 8" Luxe Feel Journal is FSC™ certified (Forest Stewardship Council), which means it is made from fiber harvested from responsibly managed forests and manufactured with renewable energy.
S&S Activewear has launched a campaign to encourage employees, vendors and communities to leave a positive mark on the future with their Make an Imprint program. The program includes environmental initiatives like outfitting warehouses with solar panels that help the company generate renewable power.
Gildan prides itself on increasing its level of renewable energy, with 44 percent of the company's energy already coming from renewable sources. On top of that, when it comes to producing sustainable promotional products, Gildan is one of the most dedicated companies with programs aimed at manufacturing sustainable and ethical apparel. You can find their customizable apparel here.
The product won't end up in a landfill.
Reusability

Recipients want to re-use it for years to come because it is useful, attractive, and high quality.
It supports sustainability efforts in recipients' homes.
Sustainable Corporate Gift Ideas
Corporate gifts are an excellent way to reward employees, and there's no better way to say thanks than with a gift — like the Rhein Bamboo Cutting Board — which is useful and made from a renewable resource.
Sustainable Conference Swag Ideas
Sustainable swag will have your team ready for any upcoming conference, trade show or meeting. They'll be sure to keep those dates in mind with Recycled Post-it® Pads 50 Sheets.
Sustainable Giveaways & Promotional Product Ideas
Giveaways help businesses promote their brand while reaching new customers. With sustainable promotional items like an 18 oz Harvest Himalayan Tumbler, your brand will be on the minds of customers for years to come.