Understanding Event Definitions: Trade Show vs Convention vs Conference vs Expo & More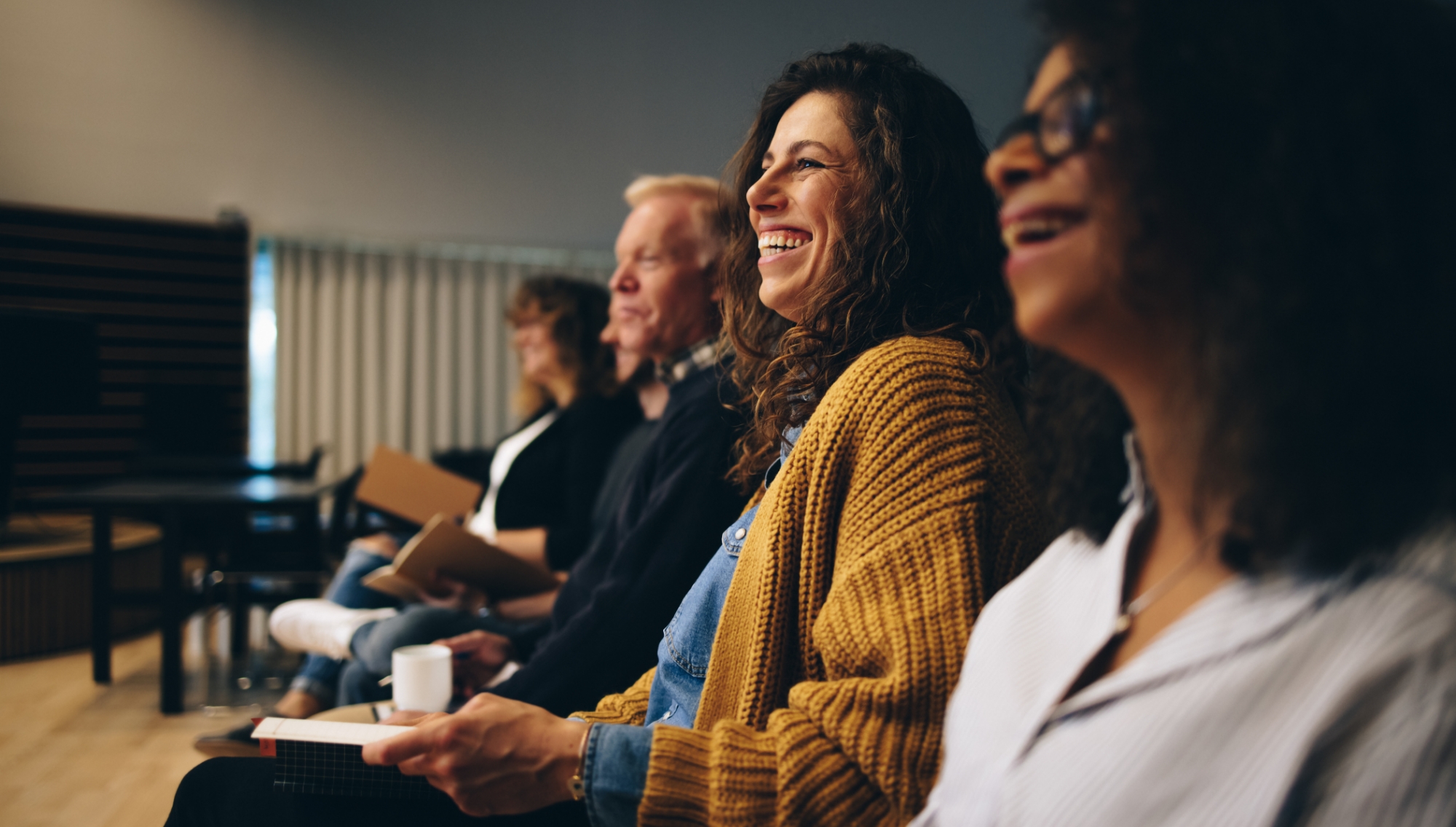 published: September 21, 2022
When you start thinking about a trade show vs conference, an expo vs convention or a seminar vs workshop, your head might start to spin. These events are all related, but not quite the same either in substance or purpose.
What are all of these events, and how can they help your business, organization or school? Here, we bring clarity to these major events and show how each event can benefit you with proper planning.
What is a trade show or trade fair?
The trade show definition, at its root, is when businesses in a specific industry gather to showcase their products and services to an interested audience.
What is the purpose of this type of event?
For business owners or representatives, a trade fair allows you to educate potential customers on your most recent releases and show them how they can use these offerings for their own success. That means the primary purpose is to introduce attendees to new products and services they might not know about or know little about.
Who goes, and why should you?
The leaders in any particular industry – from technology to consumer goods – are often the first to sign up and reserve a space because they know that attendees are already interested in their products. If you want to talk directly to your target audience, a trade show puts you in the spotlight.
What should your goals be?
Your primary goals should be to generate leads and establish brand awareness, especially if you're just getting started in the industry. For companies that already have a strong brand, you can look at them as a chance to connect with current customers, check out the competition and find potential employees.
What will you need? How should you prepare?
For a successful trade show, you will need to plan well in advance, which includes securing a space when signups open and planning travel ahead of time. Prepping your sales team on the products they'll be promoting is also vital to ensure they are properly communicating the value.
To compete with others at the venue, come up with creative trade show event items that attract potential customers. You can then promote your booth on social media and encourage people to come to check you out at the event. Since your booth is a driving factor, eye-catching signage and table displays are necessary for bringing in foot traffic at the event.
How will you measure success?
Your return on investment (ROI) is a key indicator of how to be successful at a trade show. Ultimately, you're trying to move prospects down the sales funnel by generating leads and educating them on the benefits of your products. Landing strategic meetings will be important for your success.
Of course, scheduling a meeting is only part of it. The primary objective is to convert them into sales, and establishing a line of communication can help you maintain contact for conversion. Metric-driven data that shows the number of contacts you made, the size of the potential deals and the number of deals closed are all important for measuring success.
What is a convention?
A convention is a meeting between members or fans of an organization, profession, political party or religion for a common purpose.
What is the purpose of this type of event?
Since members are the ones who typically participate, conventions provide the opportunity to engage in conversation, discuss prevalent issues and layout goals. The objective is to get all representatives on the same page and establish an agenda moving forward.
Who goes, and why should you?
The people who attend conventions are typically members of the organization or profession. For example, entrepreneurs are the ones who attend small business conventions while members of the Democratic Party attend the Democratic National Convention. In business, the convention allows you to connect with others in your industry, discuss mutual and timely challenges, learn about new tactics for operating your business and secure potential stakeholders.
What should your goals be?
Your primary goal at a convention is to network with others in your industry or organization. With other like-minded professionals attending, you'll want to use the event to create meaningful connections that will help you succeed. Find out how others in your space are dealing with adverse conditions in the market, in regulation, tech and more, and how they are creating or maximizing opportunity. You also want to take the time to learn new perspectives and share ideas of your own.
What will you need? How should you prepare?
Conventions vary greatly depending on the industry. For example, a fan convention for a television show may require full booth displays with tents, banners and signage. On the other hand, healthcare professionals at a national convention might only need business cards and pamphlets highlighting their facilities. To ensure you're prepared, bring items that allow you to exchange contact information and ideas quickly.
How will you measure success?
Since you're meeting members of your community, success can be measured by the value of the information you receive and the connections you form. Picking up new tactics that help your business succeed is one key indicator while finding people to potentially partner with is another. Make sure you're tracking these indicators during the event.
What is a conference?
A conference is an opportunity to exchange information in a professional setting, allowing participants to further develop their knowledge in an industry.
What is the purpose of this type of event?
A conference seeks to educate attendees on current practices, recent studies and new developments within a field or industry. When you look at a conference vs convention, a convention is typically focused around members of an organization or profession, whereas a conference aims for a broader audience with the purpose of sharing information with those from other industries.
Who goes, and why should you?
Popular in industries from media to finance, a conference is attended by speakers who are seen as an authority within a field as well as by attendees who want access to the information these speakers have. That means speakers at conferences will have access to a larger pool of interested audience members. As for attendees, they gain valuable insights and learn about the latest practices that could translate to their industry or even to their personal lives.
What should your goals be?
If you're a speaker, you should prioritize increasing your influence and getting your opinions out while also networking with other thought leaders. Since attendees are there to soak up information and make connections with peers, your goal should be to listen to as many speakers as possible and to reach out to other guests as well as to the speakers themselves.
What will you need? How should you prepare?
You will need a way to present charts, statistics, and other information if you're speaking at a conference. Whether you create a digital presentation or use research posters, visuals help clarify your message. The visuals can also guide you through the presentation, ensuring you don't forget an important point. You'll also want pamphlets with a summary of your findings to hand out to attendants.
If you're attending the conference, make sure you're carrying a notebook, notepad, laptop, or tablet to record anything valuable you've learned and to write down the names of speakers for future reference. You also want to bring business cards with contact information to help with networking.
How will you measure success?
Since there will be a range of speakers, the number of guests who attend your presentation will be a key factor in measuring success. After all, you're trying to get information out to as many people as possible.
For attendees, you should expect to come out of the conference with tangible ideas you can implement in your own business or profession, which could include acquiring information outside of your field of interest. You'll also want to make a point to talk to as many people as possible. Write down every name and try to gather contact information.
What is an expo or exhibition?
Unlike trade shows, where you educate attendees on a product or service, an expo is a demonstration of an offering. They often use an interactive environment to showcase the product or service, giving users a first-hand experience.
What is the purpose of this type of event?
Have you ever been in a retail store where they have display phones for customers to interact with? That's the basic concept of an exhibition. The purpose is to show your latest product developments and upgrades while also forming meaningful connections with the intent of obtaining customers.
Who goes, and why should you?
Any brand that has a new product on the market will want to take advantage of the benefits offered by participating in an exhibition, which is why major companies like Apple and Microsoft use them to display new products. An expo allows you to showcase your products to an interested audience who are there because they find value in the industry. By immersing them in your offering, attendees gain an understanding of how the product will benefit them.
What should your goals be?
Though the ultimate goal is to generate sales, it's important to shape your short-term goals at an exhibition around your current goals as a business. That could mean increasing brand awareness or finding new markets for your products. With that in mind, your primary goal should be to make as many connections as possible to generate leads.
What will you need? How should you prepare?
To attract guests to your booth, you'll need well-designed posters and signage that makes your brand stand out and educates viewers on the products you offer. You'll also want promotional giveaways attendees can take home with them, which could be custom apparel, bags or cool tech gadgets.
Since showcasing your offerings is central to the event, your products must be functional and ready for viewing. Make sure your sales team knows how they operate and educate them on the product specifications.
How will you measure success?
While you might not immediately land sales, you can measure success by the number of visitors who stop by your booth as well as by the number of new leads you obtain, which you'll need to keep up with to track your return on investments over the next few months. Tracking the progress from hour to hour or day to day is also important because you'll want to adjust if you're not reaching the goals you set. Best case scenario is that your booth makes enough of a splash to be covered by news organizations and relevant social media influencers, expanding the reach of your demonstration.
What is a summit?
A summit is a meeting between people with different perspectives in an organization or system with the goal of talking about important questions that are current and relevant.
What is the purpose of this type of event?
The purpose of a summit is to discuss and offer solutions to problems facing your industry as well as to talk about the effectiveness of strategies and practices already in place. For a summit on environmental responsibility, businesses might discuss plans already being implemented to reduce carbon emissions, their effectiveness, and ways to improve those efforts. They are also an opportunity to give out awards and recognitions to reward excellence in the field.
Who goes, and why should you?
You can find summits hosted by major banks, religions, and governments. They are attended by leading professionals or organization members who want to exchange ideas with peers and address problems in the industry. With summits often being global events, they give you access to the top minds from around the world and attending allows you to learn as well as share perspectives around an issue.
What should your goals be?
Offering insights and acquiring information about the most relevant questions facing your industry are the primary goals. While learning is a major factor, this is also an opportunity to present your own solutions and help shape policy moving forward. As with most events, they're an excellent opportunity to network as well.
What will you need? How should you prepare?
To offer valuable insights, you should come fully prepared with studies representing your point of view. That means you'll have to lean on heavy research conducted by your team and have the resources to present that research effectively, including presentation decks with relevant charts and data.
How will you measure success?
Since you're discussing problems, success should be measured by the ability to come up with a strategy that can be implemented moving forward. Additionally, you can consider a summit successful if you were able to effectively voice your opinions and have others consider the ideas you presented.
What is a Symposium?
A symposium is a meeting, typically academic, where a panel of guests gets together to discuss a certain issue. When considering a symposium vs conference, symposiums are usually smaller in scale and focus on one issue instead of an overarching theme.
What is the purpose of this type of event?
The purpose of a symposium is to discuss ideas on a subject, which could include presenting papers and other research on the topic at hand. The presentation is usually followed by a discussion to flesh out ideas, which typically involves a panel of speakers and questions from the crowd.
Who goes, and why should you?
The speakers at a symposium are experts in their field of study, and they attend because it's an opportunity to expound on ideas with other thought leaders who are studying the same subject. If it's a symposium on bioengineering in colleges, professors will discuss the topic to discover similarities and differences in their findings. These events give attendees a chance to hear different perspectives and discuss how conclusions were drawn.
What should your goals be?
A speaker should aim to get their ideas across clearly and answer questions honestly according to their research. The goal is to exchange ideas and connect with other experts and members of the audience. For those who attend, the primary objective is to listen and soak up information.
What will you need? How should you prepare?
Presenters will need a way to effectively communicate their ideas on a subject. With some topics being more difficult than others, you should prepare to answer questions that will undoubtedly arrive. You might also want to bring copies of a book you've written on the subject.
Attendees should take the time to look into the work of the speakers and read any papers or books that are relevant. If there's a discussion, you'll want to come ready to ask questions.
How will you measure success?
Success is measured by how well a speaker communicates their ideas and on their ability to discuss the topic with their peers, fleshing out any concepts that others have questions about. If attendants leave with a stronger understanding of the subject at hand, the event can be seen as a success for both parties.
What is a seminar?
A seminar is a meeting where a subject, practice or technique is discussed for educational or training purposes.
What is the purpose of this type of event?
Common in both business and education, seminars aim to educate employees, professionals and students about techniques and practices in their field. These events can be thought of as value-added classes. The speaker or speakers are assumed to have knowledge that the attendees do not. Seminars are used to discuss changes in business practices or to discuss developments in a specific field of study, but more importantly to teach. When you think of a seminar vs conference, a seminar is smaller in scale and only lasts for a few hours whereas a conference takes place over multiple days.
Who goes, and why should you?
Speakers are either thought leaders within an organization or experts in their industry. They provide opportunities for speakers to teach new skills and build brand awareness. Listeners attend seminars to hear valuable information that will be relevant to their own work while also establishing professional relationships. If you want to grow your skill set, seminars are a great place to find new ideas to try.
What should your goals be?
For speakers, the goal should be to build awareness about common issues and establish yourself as an authority within the field by presenting solutions. Attendants should aim to stay up to date on current trends and obtain useful skills they can use in their personal or professional lives.
What will you need? How should you prepare?
Since seminars are built on presentations, you'll need to present your information clearly to the audience. You can do that physically or digitally, and you might want to accompany the presentation with documents for attendants. For those attending a seminar, taking notes will be critical for retaining the information, which can be done on a tablet, laptop or with pen and paper.
How will you measure success?
With training being the central concept, success should be measured by how many tangible and actionable ideas attendees leave with. Speakers will want to track how effectively their message came across. You can do this by talking to guests after the event and incorporating training assessments like quizzes into the seminar.
What is a workshop?
A workshop is a meeting that provides discussion and hands-on experience around a certain subject or practice with the aim of teaching and acquiring new skills.
What is the purpose of this type of event?
The purpose of a workshop is to implement discussed concepts into real-world activities. As opposed to a seminar, the educational aspect is implemented through hands-on experience. They require strategic planning with the hope of achieving a desired outcome.
Who goes, and why should you?
Workshops are taught by people who want to demonstrate new skills to help individuals in their personal or professional lives. Educators participate in workshops to build credibility by showing more efficient and creative ways to accomplish tasks, and to turn a profit.
Attendees can be employees, small business owners or individuals depending on the type of workshop. For those who prefer a "show don't tell" approach, a workshop will be beneficial to attend because you'll get direct experience with the subject being taught.
What should your goals be?
Teachers are trying to not only communicate ideas clearly but also ensure attendees leave with tangible concepts that can be implemented. If you're running the workshop, you'll want to make sure you're providing useable skills and not just discussing your ideas.
For attendees, your goal should be to learn a new skill based on the subject you're studying. Even if the practice is foreign to you, aim to come in with an open mind and willingness to try new tactics that might benefit you in the future.
What will you need? How should you prepare?
If you're being asked to run a workshop, you'll need all the tools necessary for the workshop to be conducted, including information packets, tools and other items relevant to the activities you're planning. Attendees should prepare by reading all instructions for the workshop and bringing any items that are required.
How will you measure success?
The easiest way for a workshop teacher to measure success is to simply ask the attendants what they learned and if they found the information valuable. You can do this in an open discussion or by passing out a survey at the end. If attendees find the skills valuable, then both parties can consider the event a success. You can also track success after the workshop by seeing how the new concepts are being implemented in day-to-day processes for those who participated. Additionally, an ROI analysis comparing expenses to entry fees for the speaker and event producer can show another dimension of success or failure.
Whether you're presenting at an event or a member of the crowd, preparation is key to ensuring success. With the right tools in place, you can generate leads, increase brand awareness, obtain important information and make meaningful connections. These valuable takeaways will benefit your business, organization or career moving forward.